New iThing charting apps, EarthNC & eSeaChart
... written for Panbo by Ben Ellison and posted on Aug 23, 2010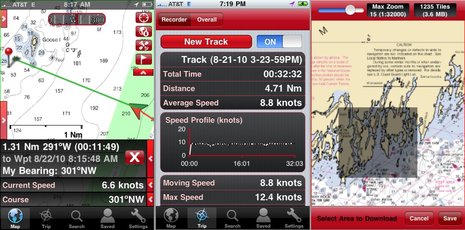 Not one but two iPhone NOAA raster charting apps debuted last week, and I had had a little Beta time with each. EarthNC for iPhone costs $25 and incorporates some fresh thinking and a lot of the resources EarthNC has long been developing for its Google Map & Earth overlay products, like EarthNC Online. They've turned all NOAA RNCs into tiles that download automatically to your phone as you pan and zoom, or you can batch download an area as illustrated in the screen at upper right. The left screen is busy looking, I know, but note how you can disappear each of those data and icon strips with the little red arrow. Note too how EarthNC is doing waypoint navigation and tracking, fairly elaborate tracking as shown on the middle screen. But that's not all...
What really distinguishes EarthNC is a wealth of overlay and reference data. Check the screen series below to see how you can easily look up local NOAA weather buoy reports and text forecasts. You can also get tide tables, though text only so far, and a POI list EarthNC has distilled from the ENC vector charts, like significant nav aids (which can also be overlaid). The latter seems a little thin so far, but you can use them as go-to waypoints, bookmark them, email them, even jump over to Google Maps for driving/walking directions to them, as you can all this geo-located info. Finally, you get a choice (under the wrench button) of searching
Marina Life
,
Cruisersnet
, or
Waterway Guide
marina, anchorage, etc. information. What you get is usually just an address, maybe a phone #, but also a link to more info at the guide's site. None of the sources are very good for Maine right now, but are probably more complete further down the coast, and what other charting app offers them? (Well,
Navimatics Charts & Tides
does
have ActiveCaptain data
, and you don't need a cell connection to access it, which is darn cool.)
I've run into a few bugs in EarthNC, but it's a whole lot of app for a 1.0 release, and there's no question that the company is serious and ambitious about mobile charting. In fact, there's already
an EarthNC iPad version
, same price, and an Android version in Beta (which I'm trying). I hope to meet with one of the principals later this week and will add what I learn to the comments section...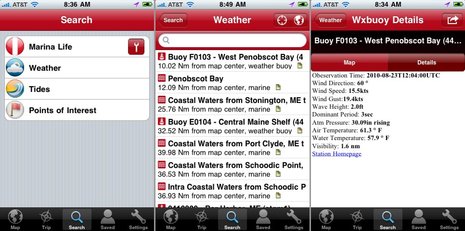 Meanwhile,
eSeaChart
-- which costs $10, no iPad version yet -- takes a much simpler approach. You download NOAA RNC raster charts direct from NOAA and can only use one at a time, and so far it only supports go-to-waypoint navigation and distance/course measurements. But the developers have focused on a clear, quick chart presentation -- which shows (screens below) -- and are already working on batch downloads, seamless charting, etc. eSeaChart will particularly appeal to traditional paper chart users, I think, but already has lots of competition in that department, like
Memory Map
-- still the king of fast and legible rasters, I think -- and of course
iNavX
, still the most complete navigation app out there (I think).
For some reason Navionics hasn't yet released its
new chart downloading app
, but I can tell you that it just gets better and better in Beta, as does
the original app
, which is now up to V4.4. Personally, I love how well Google satellite land photos integrate with sharp Navionics marine charts in both versions. Oh, and I just learned that yet another player has entered this busy niche. GeoGarage now offers
raster charting iPhone and iPad apps for the U.S., New Zealand, and Brazil
. And there are several other marine-related iThing programs I plan to write about soon, and Droid stuff.