Furuno NAVpilot 700 Series, w/ CANbus
... written for Panbo by Ben Ellison and posted on Jun 3, 2010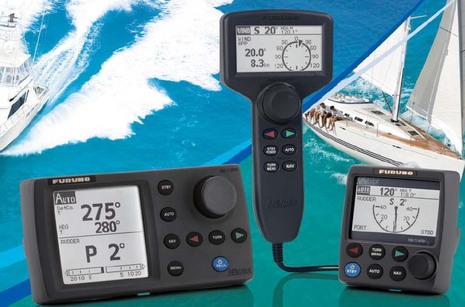 Just as with the nifty-looking new RD- and GP-33 color 4.3-inch displays, Furuno Japan is ahead of FurunoUSA in announcing the new NAVpilot 700 series. (Sorry, Klamath, but if it's on the Web somewhere, some Panbot is apt to find it -- thanks, Frank! -- and I feel obliged to write about it ;-). Aside from the brochure downloadable at that link, the most information I've found so far is a press release at the Australian Furuno distributor, which discusses a "unique Fish Hunter Mode" as well how highly sailboats figure on the feature list. While I'm not sure such features are new relative to the existing NAVPilot 500 series, the use of CANbus (aka NMEA 2000, an unfortunate word game we discussed here) in the three control heads and the processor definitely is. But the brochure diagram has me scratching my chin...

Autopilots are great for demonstrating the value of NMEA 2000 (based on CANbus, or CAN bus that happens to carry NMEA 2000 messages, or SimNet, or SeaTalkNG, or whatever you want to call it). The AP processing unit needs input from high speed heading, rudder angle, and maybe wind direction sensors, as well as interfaces with control heads and MFDs. Before N2K, that often meant a separate cable for every one of those tasks, often multiple data protocols, often a challenge of an installation. But with NMEA 2000, all those connections can be made with drops from a standard backbone running through the boat and using mostly standard data messages.
Which is no doubt why Furuno now joins Raymarine, Simrad, and Garmin in offering autopilot systems with heads and processors that can use N2K. But then what the heck are those green "NAVpilot cables" connecting the heads and the FAP-7002 processor in these system diagrams? The brochure describes NMEA 0183 and CAN bus inputs/outputs on those heads, and all sorts of standard 0183 and 2000 messages they handle. Is Furuno using its CANbus in an unusual one-to-one fashion here, and, if so, why? We need "Furuno Tech" to show up in the comments section again, please (and also to help us sort out the issues raised in the
recent entry about NN3D and MaxSea TimeZero)
.