T-SAT & SiMON Gold, mega-style multi-touch
... written for Panbo by Ben Ellison and posted on Dec 10, 2012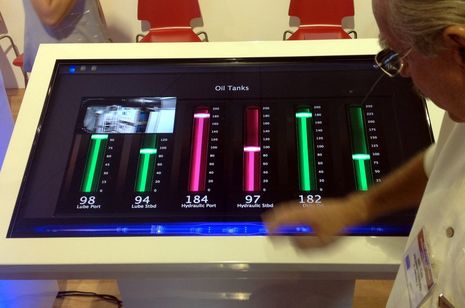 A Panbo search on Palladium Technologies will show you some very jazzy big yacht technology, much of it with a distinctly Apple style, like the SiMON2 iPad-based system installed on a futuristic Cheoy Lee Alpha 76 at the Fort Lauderdale show in 2011. This year, Palladium's Lauderdale introduction was much more a prototype but it was also quite sensational. The idea behind SiMON Gold is to evolve 'traditional' SiMON monitoring and control along with video feeds, switching, and much else into a finger-gesture-managed megayacht multiple multi-touch monitor helm extravaganza. That's Palladium founder Mike Blake pulling a data source off Gold's sliding menu bar, which he could then drag and size easily to further build a particular monitoring screen, but actually that's the most obvious feature...
What really got my attention about SiMON Gold is the idea of making the horizontal helm surfaces from a series of multi-touch screens so the operator can design and later use the switch setups with his or her finger tips. I'm not sure but maybe even that keyboards seen in the dreamy SiMON Gold video (screen grabbed below) are actually touch screens and therefore can serve other purposes when a keyboard isn't needed. Yes, the Lauderdale demo was a reminder of the wild computing environment Tom Cruises used in Minority Report, and I wasn't surprised to hear Blake reference that in the video. Science fiction begets megayacht electronics, which eventually trickle down to more modest vessels?...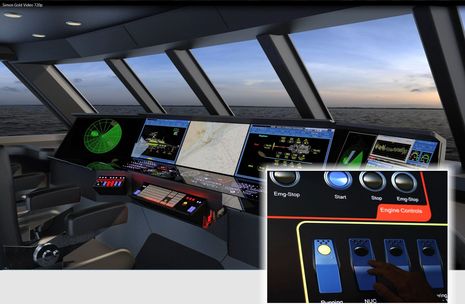 Well, there's no question that iPad style tapping and swiping has caught on in very deep way with no end in sight, and when I saw the new Unlimited Marine Services T-SAT system later in Lauderdale it seemed even more like Minority Report. T-SAT stands for Touch-Screen Automation Technology and while I can't find a video showing how it works, UMS had a fully operational demo going at Lauderdale and I can attest to its wow factor...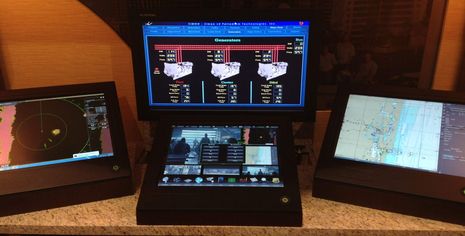 The essence of T-SAT is a super sophisticated source and monitor switching system and a touch-screen environment that may make you feel like Tom Cruise while using it. For instance, you can select any screen window off the master control screen (seen on the center monitor above and by itself below) and drag or flick it to full screen on any of the other three monitors, or other monitors not shown! It's only coincidence that the screen seen at top center above happens to be Palladium's regular SiMON software. In fact, SiMON Gold and T-SAT are largely different approaches, and could even co-exist, the former more about designing and running individual multi-touch screens while T-SAT is more about managing a whole megayacht full of monitors, touch and otherwise...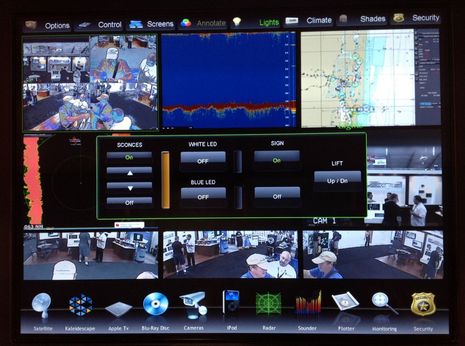 The T-SAT demo system could route up to 16 sources -- any flavor of video/audio feed, they claimed -- to as many as 16 monitors, all over Cat-5 Ethernet cables. And you can get a 32 x 32 or 64 x 64 system if you need one! The master screen above -- running on a Hatteland Series X monitor, I think -- shows many of the sources UMS had working in Lauderdale, and also how T-SAT includes some specific controls functions like lighting, shades, and climate. That makes sense as T-SAT is made up of various high-end Crestron home automation products, like its DigitalMedia matrix switcher...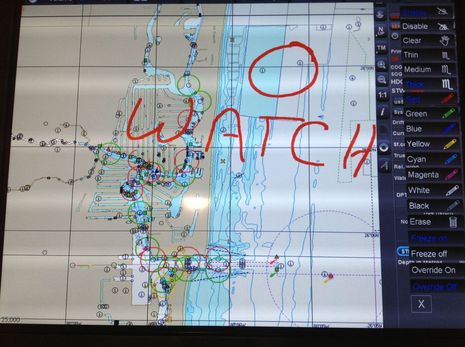 So I guess it was Crestron that came up with the idea of being able to annotate any touch screen in the system, but the feature sure could be useful on a boat. A UMS demonstrator finger drew the example above, which a mate might create for the next watch, and he also noted you could grab, say, the HD TV feed being watched in the galley and write "coffee to bridge, please" on it...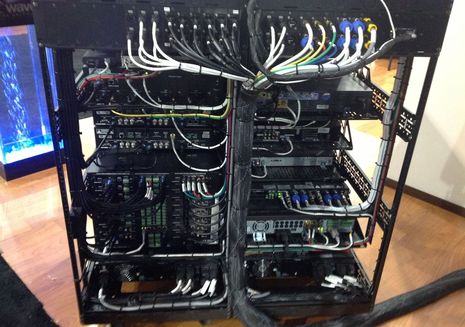 However, note that there is some serious hardware involved in all this magic, and mind you that the rack above is only taking care of 16 x 16 matrix switching. Plus, even if you had a big locker and lots of power just for A/V switching and household controls, I dare guess that these systems are fairly expensive. All that said, though, how about a hat's off to Palladium Technologies and Unlimited Marine Services for taking mega yachting into the touch and swipe future. Will we all be running our helms Tom Cruise style one day?