Navico GoFree, WiFi1 & the 0183 Link
... written for Panbo by Ben Ellison and posted on Oct 19, 2012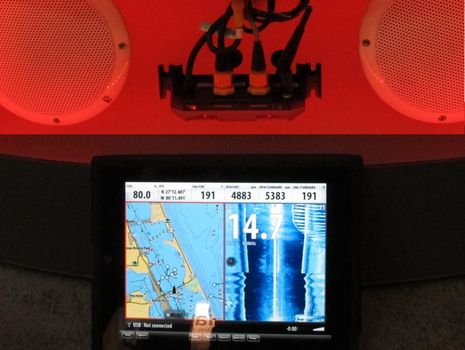 I now know a lot more about the Navico GoFree WiFi strategy that we first discussed last January, and it all sounds darn good, but most everyone interested will have to exercise a little more patience. While the iOS version of the GoFree Control and Viewer app is already available on iTunes (with an Android version scheduled for Q1 2013) and the WiFi1 marine wireless hardware is slated to go on sale for $199 in November, the Simrad NSS software that will make them work together smoothly won't be out until late November, followed by the just-announced Lowrance HDS Touch in Q2 2013. And yes the rumor is true that the GoFree Control app will not be supported for non-touch MFDs like the NSE or regular HDS. But there's so much else to GoFree that every Navico system owner will likely be pleased eventually...
So while the IBEX demo I photographed badly above was a bit of a beta tease, the app did seem quite fast and I liked how the developers used little buttons to duplicate the NSS hard key functions. While RayControl's graphic keypad has more pizzazz, this style may be more practical. Though of course one beauty of apps is that either manufacturer could easily switch over or offer an interface option.
At any rate, Navico's own apps are just a small portion of the whole GoFree strategy. In fact, it will take two Panbo entries just to explain what I know now, starting with the WiFi1. Obviously it's no ordinary WiFi router; for instance, the new software coming to NSS and HDS Touch will let you set up the router name, password, and even the WiFi channel, and larger boats can easily install two WiFi1's on the same network. (And note that the GoFree Control app can select whatever compatible MFDs are available and multiple apps can control the same MFD.) But what I'm learning from Navico and other manufacturers is that WiFi interfacing to a critical navigation Ethernet system is not trivial. Thus the answers to the inevitable questions "Can I use my own boat router instead?" or "Can WiFi1 also connect to the Internet?" are both "Maybe"!...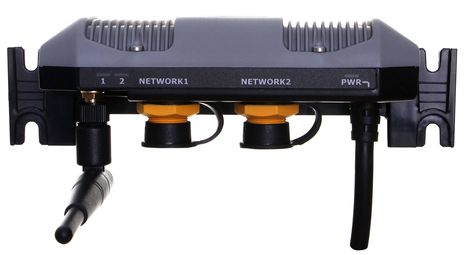 Besides getting my hands on a GoFree Product Brief, which accounts for the slides below, I had long chat with product manager Robert Langford-Wood (while he sat in his New Zealand office and I drifted down the Alligator River using Google Voice, wonderful connected world that it is). What I learned was that WiFi1 has some unusual settings, particularly to handle the high bandwidth stuff like radar and sonar, and that while it is possible to use GoFree over any router, Navico isn't going to encourage it or support it (all the marine tech support departments are concerned about WiFi routers). However, as mentioned in the FAQ below, they do plan to publish an advanced WiFi1 user manual that will reveal the special settings.
As for Internet connectivity, it sounds like there are definite possibilities but protecting the nav system makes it tricky. But then again I gathered that there may be more to putting two Ethernet ports on the WiFi1 than just making it easy to install inline between any two Navico Ethernet devices. It may be able to serve as a firewall between a Navico network and a general boat network. I'll get into more of the higher level GoFree features in the follow up entry...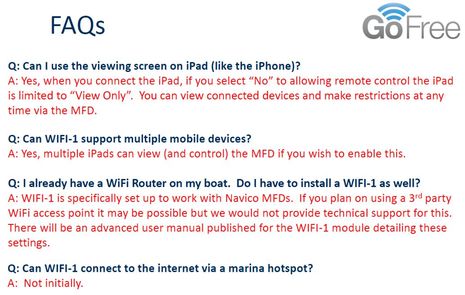 In the meantime, there's one GoFree tier that probably will work with most any WiFi router and is available to NSS and HDS Touch owners now, and that's the "0183 link." It lets you send out any NMEA 0183 data on your Navico system out to apps that support a TCP/IP link, like the ones below, and it's worth noting that no developer has to get Navico's permission to use this link...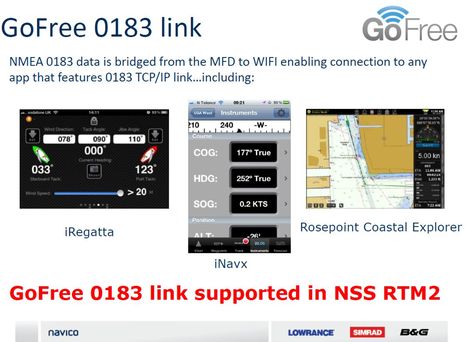 In fact, I tried the 0183 link on Gizmo, as seen below. It was easy once Navico sent an adapter cable to get from Navico Ethernet to a regular RJ45 plug; I just copied the IP address and port number found in the new NSS RTM2 software (RTM stands for "released to manufacturing") to the appropriate setup screen in iNavX. However it didn't work and it took me a while to realize my probable mistake -- the misuse of a crossover connector to make the Ethernet run -- and I still haven't fixed it. Besides, there's virtually no 0183 data on Gizmo's SimNet anyway (though maybe some is bridged over) and I've been busy...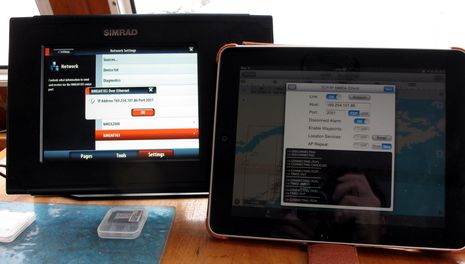 But here's what's really exciting: Navico intends to make all the numeric data on its systems, N2K definitely included, similarly accessible and has even come up with a protocol that will purportedly make app development easy and inexpensive. And they're also hoping to encourage some sophisticated two way apps, even with radar and sonar included if the app enhances the overall system (rather than say, trying to replace an MFD). I'll detail the GoFree toolkit story in the next installment, but here's the feature matrix and current timeline. What do you think so far?