Gizmo south leg 1: offshore, online & inReach
... written for Panbo by Ben Ellison and posted on Sep 23, 2012
Cape May, NJ: So far, so good except that I obviously haven't yet integrated Panbo writing into my delivery/cruise routine. Sorry about that, but I'll get back in the groove now that we've slowed down and also now that Gizmo and I have our sea legs back. It's been a while for both of us! Moreover, I've had a chance to test electronics in demanding conditions -- like two night time entrances to unfamiliar harbors -- and that's really sharpened my thoughts about what works well and what doesn't. Today, though, I'm going to discuss my tracking and staying-in-touch with home strategies...
First of all, there's the DeLorme inReach, which is working out just as I had hoped. The iPad screenshot at top shows how I was using it on Friday as we rolled down the coast of New Jersey. While it was sending track messages every 10 minutes to my online ShareMap, I was also messaging with friends and family (feel free to try it). Note that inReach was also tracking me on a NOAA chart every second and providing GPS to other navigation apps on the iPad. And if Gizmo had broken down, I could have placed a "help me" call with location and member ID to TowBoatUS just by pressing the message button on the inreach hardware. Had the things gone really wrong, I could have sent a distress call to GEOS, who would have patched me into the USCG SAR system. (There have been a few inReach-enabled SAR situations now, and the two-way messaging has been a big help in at least a few; I'm hoping I can report details eventually.)
One little issue I've come across is that the inReach only holds 30 track points in memory and hence if you leave the Earthmate app closed for over five hours it won't download your whole track (though they're still going to each user's ShareMap and personal DeLorme Explore web spot, which saves and displays everything). You can see the results on that top screen, particularly when my mate and I got thoroughly engrossed in the scenery along the East River and New York Harbor (where at one point we had 146 AIS targets, all neatly handled by the Vesper Watchmate 850, though that's another story). At any rate, the image below shows how I was using the inReach much of the trip. Yes, the iPad is in a ScanStrut/Lifedge waterproof case so I could have used the two way messaging in pretty gnarly conditions (though the case has some issue I'll cover soon). What's hard to make out though is that the inReach is on ship power, not AA batteries...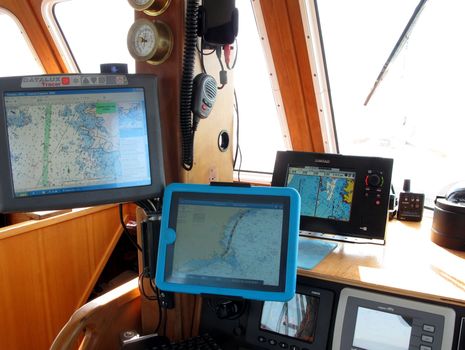 Indeed, just before I left Maine, DeLorme passed me an Auxiliary Power Adapter (APA) that is a great accessory for boats, planes, and cars. As shown below, it replaces the battery door and thus maintains the inReach's IP68 ruggedness, though of course you need a protected spot to plug the APA in. But that well-made cigarette-lighter-style plug does have a 3 amp blade fuse and its voltage regulator can purportedly handle anything from 10 to 30 volts and even a 40v surge. It would be nice if the $80 APA also included a good way to hold the inReach in place, but there is a nice RAM Mount available and I think it's designed to work with the APA. Difficulty securing the inReach well in rough seas is why Gizmo's track across the Gulf of Maine (see our ShareMap) has holes in it. If I'd velcroed it at the lower helm earlier -- or better yet for sky view RAMed it to the fly bridge -- I'm sure the track would be continuous...
That difficulty aside, it was no surprise that inReach tracking was more consistent than using the mAIS app to put Gizmo's position on MarineTraffic.com. via cellular. The two screens below show how well the inReach tracked (and messaged) way off Boston while mAIS missed a lot of miles. The iPhone screen of the MT app, incidentally, was taken last Monday by my brother-in-law -- thanks, Rich! -- who was keeping tabs on us. But if you look at our MT "itineraries" now you'll see that this tracks have been replaced by newer ones. But then again this service is completely free, if you have a smartphone or pad aboard, and Friday's track suggests that it never missed a track point down the whole Jersey coast...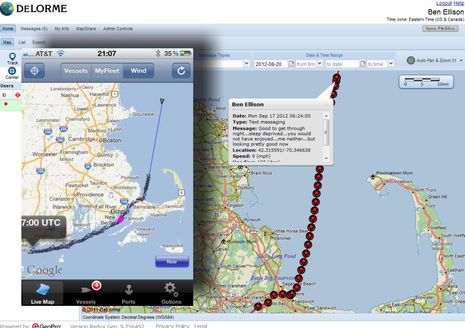 Similarly the mAIS track below shows only one small cell hole while we bobbed along from Newport to Port Jefferson (arriving at 4am to swing happily to a big mooring while seeing 40 knots SE gusts). In the interests of full disclosure, though, I should note that I installed an Wilson cell booster and Digital Antenna cell stick just as we cleared the Maine coast, and it often results in a two bar increase in reception. In fact, I've often been getting a fairly high speed data connection while underway (either via USB or WiFi) and could have been posting Panbo entries had it been calmer (and had there been fewer little boat issues). So, for the most part, the inReach really wasn't needed on this trip, though I still really like having all its abilities on tap. I've also been enjoying Gizmo's high power WiFi setup in all the ports we've been to, as it's been providing an Internet connection fast enough to stream video on (we're 7 episodes into Louie CK ;-) It's a three layer data strategy, and I'm liking it. More to come soon, I promise!