OneNet, NMEA finally creates a marine Ethernet standard!
... written for Panbo by Ben Ellison and posted on Aug 1, 2012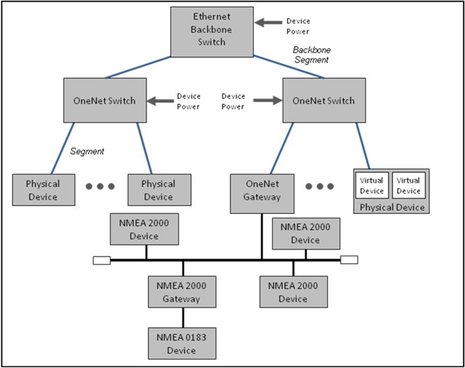 Yes, I have known something about this for a while (because I promised not to write about it), but it's purely coincidental that NMEA is announcing OneNet just after we once again discussed the crying need for a NMEA 2000-to-Ethernet/WiFi standard. OneNet appears to be all that and much more...
Before I go further, though, please note that this is an announcement of a standard that is "scheduled to be operational by late 2014"...so we're talking about the future of marine electronics, not the present. That said, here is the full press release PDF. One of several things I find interesting is that the top listed goal for OneNet is to "Transport NMEA 2000 network messages on Ethernet in a standardized manner" or as the release's subtitle says "Think of it as NMEA 2000 on steroids." That's because OneNet will break out of N2K's speed and node limitations big time, like increasing the maximum number of devices from 50 to over 65,000! (Now, that would be quite a vessel.)
Note, though, how NMEA Technical Director Steve Spitzer cautions that "OneNet is not recommended for real-time critical data, because the NMEA 2000 Controller Area Network (CAN) enables prioritization and guarantees that the message transmitted will always get through to certified devices." And note too that the OneNet committee -- a broad group of manufacturers plus concerned organizations like the U.S. Coast Guard -- "believes that OneNet will not replace NMEA 2000 or NMEA 0183 within the foreseeable future. Each will have its place on a boat."
I'm sure that some Panbo readers who know more about Ethernet than I do will have things to say about technical details in that press release, but I sure like the idea of standarized Power over Ethernet (PoE) able to deliver up to 15 watts (per device?) and especially an agreed upon way to pipe audio and video around a boat. But there's much that's unsaid too. What will the OneNet standard for connectors and cable look like (assuming there is one)? What about radar and sonar? Will a certified OneNet Gateway be able to support apps that are relatively easy and inexpensive for developers to get approved (as planned for the USB gateways)? What else?
And, finally, is it reasonable to take two and half more years to get OneNet operational? I have never been involved in a standards making process -- small town harbor committee doings are hard enough -- and certainly wouldn't venture a dgement on that. (Some of you may have opinions, but please remember how tiny this industry is.) Overall, though, this sure looks like more evidence of what Patrick wrote today: "We're at a good point in time for boat electronics, and it's only going to get more interesting!"