DY NavLink, how will your iPad get boat data?
... written for Panbo by Ben Ellison and posted on Jul 30, 2012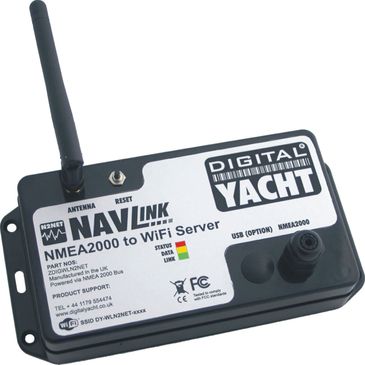 On Friday I got a press release announcing Digital Yacht's NavLink NMEA2000 to WiFi Server, and while I certainly understand the desire to get boat sensor data of all sorts onto iPads and other tablets, I remain confused about how it will all play out. For instance, how is the NavLink "revolutionary" when the Chetco SeaSmart and DMK boxes purportedly do the same job? And whereas there is no NMEA standard for putting N2K onto Ethernet yet, are all these products doing it differently so they won't necessarily work with even the few marine apps that already accept data over WiFi? Then there's the issue of NMEA 2000 certification; though I sure wish the standards organization would get this sorted out, I still think their certification process must especially be honored when a product is all about translating NMEA's intellectual property. When I wrote about that several of you disagreed, but I understand that Chetco is very close to certification just got its WiFi gateway certified, and I trust Digital Yacht will also work on it. But I don't see NMEA 2000 certification on the NavLink box and also don't now what DY means by "Digital Yacht has their own, certified version of NMEA2000, called N2NET, and in the future customers will see more and more products enabled with this interface." I'm hoping DY will clarify -- they just did, and well, see first comment on Panbo -- but in the meantime I've been testing some other means to the same end...
Actually I was testing the USB NMEA 0183 output of a Raymarine AIS 650 (which, like its Em-Trak B100 sibling's, seems a bit flaky) and when it seemed to be stable when read by Coastal Explorer 2011 charting software, I thought I'd try CE's "Data Server" feature. Well, despite a warning about the need for advanced IT skills -- which I don't have -- it worked just fine...
All I had to do was type the Host and Port addresses suggested by CE into iNavX -- which seems to support about every external data source available -- and the latter started getting GPS and AIS data over the boat's WiFi network both the iPad and the PC were on...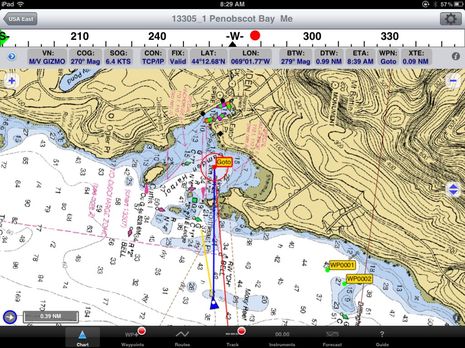 You can see the data fields coming from the AIS 650 through CE to iNavX on the screen above, taken this morning as we returned from a weekend of testing and cruising. Unfortunately, though, the Coastal Explorer running in the pilothouse was also getting wind, depth, and other data from an Actisense NGT-1 NMEA 2000 gateway, but CE apparently does not bridge N2K data over to 0183 and therefore was not serving it to the iPad. But given that the TCP/IP pipe is established, how hard would be for CE to send over all sorts of info? And given that the Rosepoint CE developers like iPads themselves, might they come up with their own app and/or a complete data solution (if you are also running a PC onboard)?...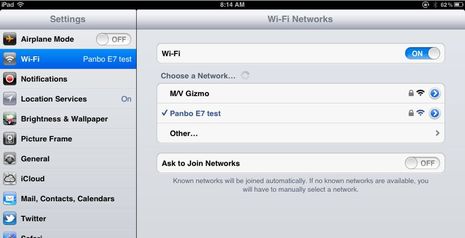 Of course developing their own apps and building WiFi right into an MFD that collects virtually all sensor data -- NMEA 0183, 2000, radar, sonar, etc. etc. -- is the stradegy already taken by Raymarine and Furuno, and it's got a lot going for it (if you're willing to update your main hardware). I do wish that the Raymarine c- and e-Series could join an onboard WiFi network like the Furuno TZTouch MFDs can, but once I do the switch above, RayControl works very well...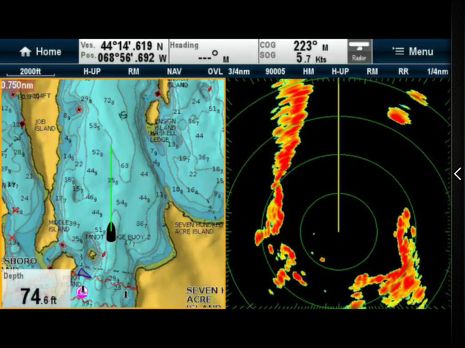 Ray warns that RayControl may be slow on an original iPad like mine, but I sure didn't notice it even with radar running. My wife wasn't impressed by the visibility of the iPad on our flying bridge, and yes I did have it at max brightness, but you can of course take it to a shady spot. And, besides, the most likely scenario, I think, is have a c- or e-Series outside and using the app at your nav station below (or in your berth ;-). I took the screen below to show how the display shrinks a bit when you flip open the keypad but the need to do that will decline when the c- and e-Series gets the onscreen controls that are first coming in the new a-Series. The screen also illustrates a radar overlay problem that's been discussed on the forum. I had unplugged Gizmo's heading sensor because it needs calibration (again!) and would have liked the e7 to do overlay with COG instead. But Bill Bishop is reporting that Raymarine plans to put that possibility back into their MFDs (at least some of them).
But I digress. The point of the entry is that there are lots of ways to skin the boat-data-to-iPad cat...and I haven't even mentioned a couple more I'm not permitted to discuss yet ;-)