Testing a state-of-the-art install: "Many things work!"
... written for Panbo by Ben Ellison and posted on Jun 28, 2012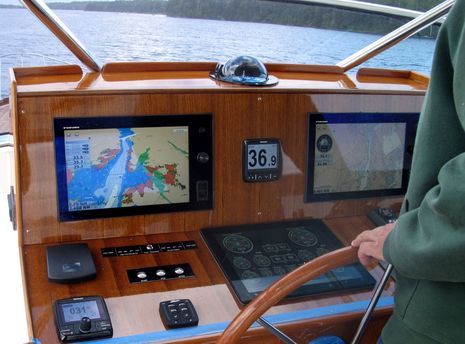 A wry line that applies to this and numerous other cutting-edge installs is: "Many things work!" (Though maybe not everything just yet.) This is the 58-foot yacht I mentioned in February when I met the owner at the Miami Show as he planned a nearly complete electronics update. Obviously he decided on the Furuno TZtouch displays that debuted that very day. In fact, while the four TZT14's on this boat may be some of first installed anywhere and they're mixed with lots of non-Furuno gear to boot, they seemed to be working quite well. So nicely done, Furuno! But I emphasize "seemed" because it takes a while to wring out a system as complex as this, especially when so much is happening preparatory to delivery day. Heck, guys were varnishing below even as we blasted up the St. George river at nearly 36 knots to check that yet another prop change had fixed vibration issues. And though the techs are joining the owner for the two-day delivery home, it's still unlikely that they'll get all the way through the "issues list." That's life on the cutting edge. Nonetheless, I think the owner is going to be very pleased with how close the system comes to his vision, and how well it will customize and expand to his future wishes...
If you click that upper photo bigger you'll see some of the other gear selected. I found it Interesting that the owner chose Raymarine i70 and p70 for instrument display and autopilot heads because they better matched his aesthetic desires. Even without their silver bezels painted black (an option Raymarine might consider?), they match the TZtouch displays better than anything Furuno has (yet), and thanks to NMEA 2000 they're all sharing data pretty well too. In fact, while one of the few glitches seen on the TZT so far was an inability to display COG and SOG sourced from a Furuno GP33, the i70's showed those values fine. (The problem turns out to be the source of Magnetic Variation, surprisingly enough, and while Furuno is working on it themselves, I think it's a little N2K gremlin that effects other systems and deserves investigation.)
Also on this yacht's N2K bus -- which has four power legs and a NBE100 network extender -- are oddles of Maretron monitoring info, seen in part on the flying bridge's KEP touchscreen display. Yes, there are iPads involved too...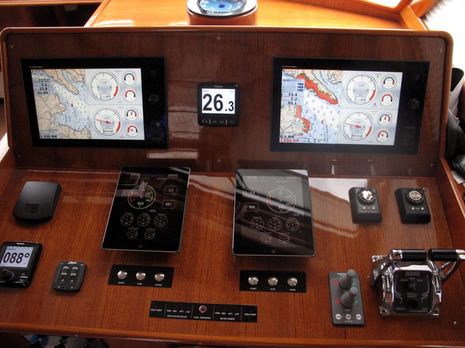 The lower helm is very similar to the flying bridge -- which is to say clean, sleek and touch friendly -- except that a pair of iPads running the N2KView app do the monitoring duty. Incidentally, those TZT screens showing basic engine data (which can also be seen on the i70) wouldn't be used normally; I was just checking the remarkable redundancy in the overall system (there are non-N2K engine gauges on board too, though tucked away). But while I love the clever "floating" pad mounts created by the crew at Lyman Morse (just mentioned in the PBR entry), these photos also illustrate what may be a problem...
Photos of situations like this almost always look worse than reality but several of us felt like the iPads were hard to see given the glare and the visual contrast with the truly bright Furuno and Raymarine screens (and yes the iPads were turned up to max brightness). But then again they are wireless and maybe it will be easy to, say, add more Vogel's system base mounts around the helm so the operator can easily shift the pads as needed in certain light conditions.
Note too the matching custom switches and trouble lights that grace these helms (I'll get the source when I next see the head electronics installer, the methodicial and cheerful Nik DeMaria). But I couldn't help noticing the few discordant controls that also made it onto these helms, like those Bennett trim tabs. There may have been a sleeker alternative -- especially as Bennett added N2K support a long time ago -- but I've yet to see a totally integrated helm control system anyway. That goal remains elusive, though I'm in agreement with this owner that it's a worthy goal. It's reasonable these days to want marine electronics to not only work well but look good...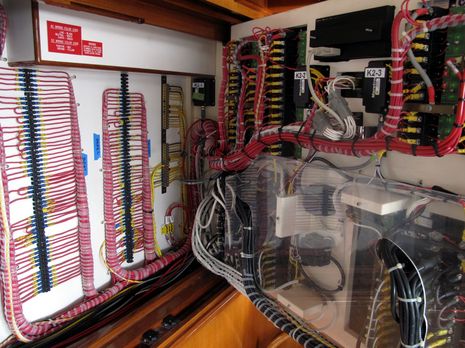 Now for a peek behind the scenes. Many techs in both Asia and North America have likely been involved in that main panel wiring seen above -- and at least one may have an interest in bondage -- but what I noted was Nik's scheme for labeling the many N2K devices in a simple way that references where they tee into the backbone. For instance, "K2-3" means that device is the third one attached to a Maretron multiport that drops from the second tee...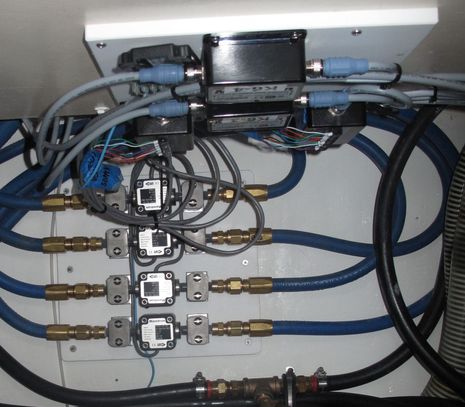 And above is a bunch more NMEA 2000 gear tucked into the back of the engine room. Those Maretron FFM100 fuel flow meters are minding the two gensets while bigger models watch the main engines. What's noteworthy is the trouble that the Lyman Morse mechanics went to fabricating those stainless brackets to truly secure the hoses and meters and how they mounted it all on a Starboard panel so it will be easier to work on if needed. While the software end of this boat's elaborate fuel management systems is still a work in process, it will be very interesting to see how it works out. Especially as the main engines themselves are also delivering flow info to N2KView which ought to be able to display both values simultaneously because Maretron has made more use of N2K "instances" than other developers (discussed here).
At any rate, I've already got a lot more share about this install plus I hope to visit the boat again before it departs Maine. Among other things I'd like to take more advantage of Furuno's new screenshot capability. On the TZtouch you can make what's called the Function Gesture -- a two finger double tap -- into a screenshot key, or MoB or several other choices. I'm also hoping the TZTs are showing the Class B AIS static data we didn't see the other day, though that may have been because the antennas were being worked on simultaneously. The boat is a beehive right now, but many things already work well and look good!