Fusion MS-IP700 and -NRX200, hands-on #1
... written for Panbo by Ben Ellison and posted on Jun 6, 2012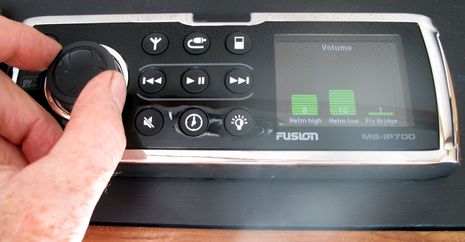 The Fusion IP700, first announced at last October's NMEA Conference, is so shiny that it's hard to photograph, which is why you'll see reflections of Gizmo's dotty overhead if you click/enlarge the shot above. But you'll also see the IP700's terrific volume control and the fact that you can now give your speaker zones meaningful names. As shown by the green color I'm controlling three sets of speakers at once but I can just push the big knob to select individual zones. Actually it's even simpler than that because usually I have the Fly Bridge zone control shut off on this display as I'll be controlling it, and it alone, with a NRX200 remote that will be installed up there, all very easy to set up even without peeking in the manual...
This is the third Fusion stereo I've had on Gizmo, if you count the Navico SonicHub, and while I've liked them all, I'm seeing improvements everywhere I turn in the IP700. Obvious features like "cover flow" album art on the color screen are great, but so is the way the whole menu system has become context aware and generally more intuitive. FM presets, for instance, are much easier to create and delete, and, incidentally, the radio seems to be pulling in more stations than the SonicHub did on the same antenna (a masthead VHF whip split with a Vesper AIS splitter). Plus the IP700 only draws about 8-11 Watts depending on volume and bass content, with about a Watt saved with "power saver" (screen saver) mode. This compares well to the original IP500 and the Poly-Planar MRD80i, and is way better than the SonicHub, all of which I checked last summer with the same speaker setup.
I did come across a strange bug, though. While some podcasts that I dragged from iTunes onto a USB memory stick play just fine, others are sped up to Donald-Duck-on-crack speed! They're not stuck in Fast Forward, they're just sped up. But I can see in the menus (below) that the IP700 and the NXR remote can be updated when this bug is squashed (presumably via memory stick). Which is especially good news as there is at least one Panbo reader whose iPod stopped working in his Fusion after the iPod's software was updated. Now Fusion can keep up with Apple. (Incidentally, I haven't seen that problem myself and am using a fully updated iPod Touch gen 2 in this IP700.)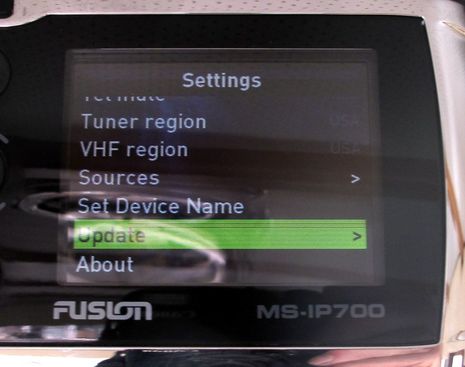 Now let's look at the unusual "NMEA 2000" connectors and cabling Fusion chose to use for the head units and remote, which caused a fair bit of recent discussion in the comments section of the original 700 Series entry. I sort of get why Fusion wanted to use the less expensive DIN connectors they've always used for their CANbus remotes -- just look at how many connectors they have to put on every head unit -- and what's supplied does work OK for powering and interfacing with an NXR if you don't care about using an existing N2K network.
But using field-attachable NMEA 2000 connectors to make your own patch cables is not as easy as I thought because the DIN connectors coming from the units are different than the ones on the backbone cable. So either you have to cut the unit cable, which may well void the warranty, or you have to use those blue tees (without the terminators) as part of the homemade adapter cable. I don't like either choice, and neither do I like the prices I'm seeing for Fusion's own MS-N2KSTART or MS-N2KCONN adapter kits, which don't seem to be available anyway!
Fusion does make the need for these adapters fairly clear on its own site (though more detail on what the kits are would be nice). But I don't see any mention of NMEA 2000 adapters on some of the third party pages selling this equipment -- like West Marine's -- and that could lead to some bad feelings...
Plus, while the NXR200 seems like a great remote for the IP700, it doesn't seem like a great NMEA 2000 data display. I've only tried it a briefly but it seems like you have dig into the menus to enable such display and then the font doesn't take maximum advantage of the screen. That wind direction seen below, by the way, is simulated data built into the NXR because I haven't interfaced it with my N2K backbone, and I may not. But I'll be tempted to if one or more of the MFD manufacturers uses Fusion Link to control an IP700; I saw with SonicHub how nice it can be to select tunes on a big screen, and that interface could be improved. Then again I'd also like to try the remote app via WiFi option. Overall I wish Fusion had either done the NMEA connection better or made less of a deal about it, but actually it's looking like a fairly minor aspect of an amazingly versatile marine stereo.