B&G Triton, first look's good
... written for Panbo by Ben Ellison and posted on Jun 1, 2012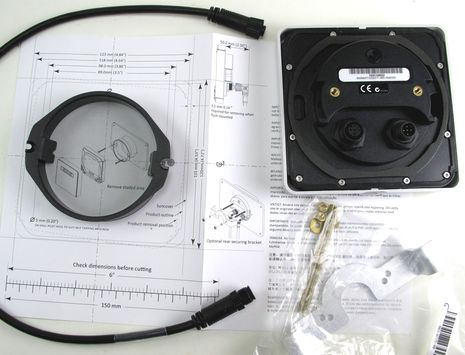 I'm starting out with a backside shot of the B&G Triton T41 color instrument display -- first announced here last September -- because I'd like to highlight the novel installation scheme. After fastening that flanged collar at left into the appropriate size hole, the Triton simply inserts and twist locks -- or vice versa -- without the need of a tool, and also without any "snap on/off" fastening covers to get broken or lost. It worked fine for me in the lab, and I suspect it will work fine on Gizmo's bridge, but the very day I took this picture I stumbled on an early Triton user who doesn't like this system at all...
The unhappy beta unit owner/installer was Jeffrey Schwartz of Miami and I'm not sure if his hole was a little too large -- it does seem like the flange could be bigger and accommodate more than two fastenings -- or whether the location lacked the space left or right to allow for the twist and lock motion (see dotted line on the diagram). But I do understand that a Navico representative was there when Jeff had has install problems and that may account for the optional rear-mount "retention bracket" also seen in the photo above. Point validated: it's hard to design marine electronics that will fit every boat situation, and it's also hard to review them!
You may also notice in that booty shot that the Triton utilizes the standard DeviceNet-style NMEA 2000 connector -- a Navico trend away from SimNet, it seems -- and that it has two of them so that these displays can be daisy chained if desired. Which means that like most every other all-in-one N2K instrument display, the Triton is not NMEA 2000 certified, as ranted about here. The main NMEA worry is that if one chained display fails, others upstream will also lose contact with the boat's backbone, but in this case an informed user could simply untwist the broken display and screw the two N2K drop cables together. Not that I've ever seen any brand's all-in-one fail...
At any rate, what I'm noticing in the Triton so far are a lot of nuances that will appreciated by sophisticated sailors, as in some of the Advanced Settings seen above. For instance, while it may not be "correct" to substitute SOG for boat speed through the water -- as well explained in the interesting "essential guide" available on B&G's Triton page -- it's still good to have the option...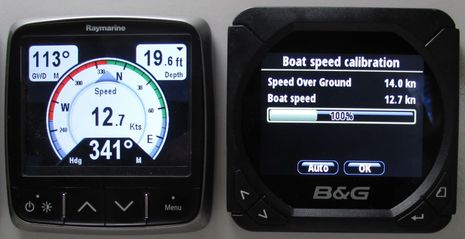 The Triton also offers a lot of calibration options, and (like Furuno instrument displays) they are independent of the particular N2K transducer in use. That seems to mean that the corrected values stay local to Triton -- as opposed to becoming system wide -- but it also makes it easier to add a Tritont even if your boat doesn't have other B&G or Simrad gear.
Note that I posed the T41 next to a Raymarine i70 because there are many similarities. The Triton, for instance, has lots of pre-built "fancy" screens somewhat similar to the one at left -- including the best apparent/true wind "gauge" I've seen -- but both also offer all sorts of ways to build custom screens...

I think that it was actually the Garmin GMI 10 which first demonstrated how useful all-in-one NMEA 2000 instrument displays can be, but I have to say that now it's looking a little elderly compared to the bigger-screened competition. But then again Garmin has been amazing at adding support for more and more N2K data types -- even engine trouble lights -- and plus it may well have a i70/Triton "killer" in development.
At any rate, all three displays will be installed on Gizmo soon and I look forward to comparing them further. I'm particularly interested in the Triton's so-far unique ability to become an autopilot display with the addition of the Triton keypad, which I will also install.