Airmar expedition, searching "tunny" in Scotland
... written for Panbo by Ben Ellison and posted on Jun 20, 2012
Do you too wonder if the Colonels dressed like that as they fished off their steam yacht in 1933? Actually I didn't even know that there once was a giant bluefin tuna fishery off Scotland until this morning when I read Airmar's new blog about an expedition that starts tomorrow. The company already had a crack tuna fisherman on staff in the person of Bertrand Picarda and now they've teamed up with a gentleman from Inverness who fishes a handsome 40-foot Rodman 1250 Fisher Pro..that now has some new holes in its bottom...
It's no surprise that Airmar is going to use CHIRP technology to find out if conservation measures really have put new life in this fishery. Partner Garmin is providing the GSD 26 black box sounder and an MFD system to display the results on, but as described on the blog, fitting a big R109HL transducer, as well as a subtler B175 Wide prototype, was not trivial. I'm looking forward to seeing how the expedition goes and appreciate that Airmar is linking its entries to large format photos. Maybe we'll see some great CHIRP screen shots, or scenes of Scotland (where I have some roots).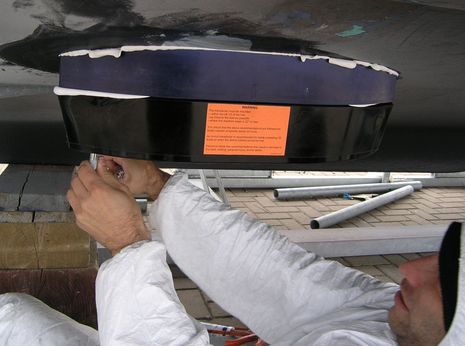 PS: I recently came across another interesting blog with an Airmar relationship and that's Olin SailBot, which follows a group of engineering students at Olin College (an interesting school many people haven't heard of) as they design and construct a small unmanned sailboat, and then compete with similar teams. They did well, too, and it sounds like there will be a new round next year.