DeLorme inReach 1.5, groovy with an iPad
... written for Panbo by Ben Ellison and posted on May 21, 2012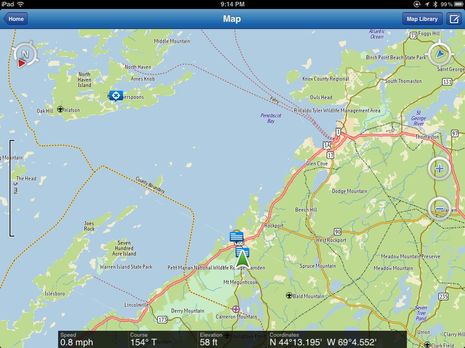 DeLorme just started shipping a new 1.5 version of the inReach satellite messenger, tracker, and distress device that works with an Apple iOS version of the Earthmate app as well as an improved Android version. I again participated in the Beta testing and, though almost all of that was ashore, I'm even more convinced that inReach is going to become a constant cruising companion on Gizmo and many other boats. It's hard to say whether some improvements are due to the new hardware or the new apps versions or the platforms I'm using them on, but for boat use the combination of inReach 1.5 and even an iPad 1 is totally sweeeeet...
For one thing, Bluetooth pairing the inReach 1.5 with the iPad was dead simple and the connection has worked perfectly ever since. (Pairing and connection between my Android phone and the original inReach also improved since my first review, either when I switched up to a Galaxy Nexus phone or as DeLorme updated the V1 firmware, or both.) Plus the inReach 1.5 is supplying the GPS info to that iPad screen above, which the original model wouldn't do for my phone (though an update for that is coming too, I hear). Even if you have a pad with GPS built in, using the inReach to plot you on your phone or pad -- possibly while it's also sending track points to your private DeLorme web site and your share page -- will save significantly on its battery power...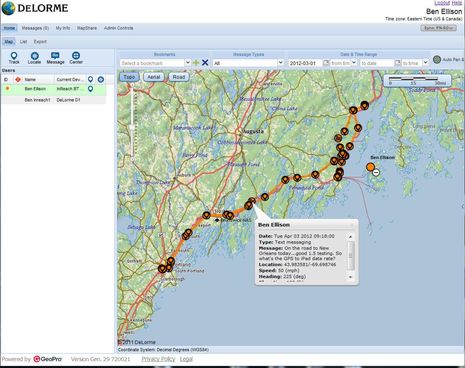 But don't confuse the 10 minute satellite tracking points seen on my DeLorme site above with what was happening on the app as that data was collected. In fact, there's more than 10 minutes between some of those tracks, but that's reasonable given that the inReach was usually hanging from the rear view mirror of a steel roofed vehicle. I was also able to get and receive text messages in those difficult circumstances and the answer to my question about the Bluetooth GPS update rate is 1 second. (Incidentally, I was sat texting my friend John Gass, who went from Wayfarer Electronics Manager to running the inReach beta program; how lucky was that!) His answer did not surprise me as the actual plotting in the app is quite responsive, even in Head Up mode as in the top screen. In fact, the inReach will supply GPS info to any plotting app on my iPad...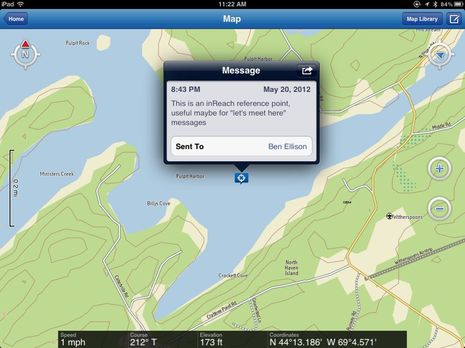 And what if DeLorme added nautical charts to library of detailed North American topo maps an inReach owner can download to his or her phones and/or pads? I'm not saying they definitely will, but they already serve NOAA charts and other cartographic goodies to other software products. Plus Patrick Shay -- the very guy who used to tell me how deep the Iridium 9602 modem would penetrate the marine world when he worked there -- became DeLorme's VP of "Connected Solutions" just before the Miami Boat Show, where he grinned and said, "Ben, you ain't seen nothing yet!"
So I think that anything is possible with inReach, like say a relationship with an MFD that has Bluetooth built in or with a towing company that you might want to two way text with location when beyond cellular range, or both! But I digress, and just experiencing inReach mapping on a bigger screen is quite a big deal in itself. For instance, now I'm getting the value of nuances like Reference Points (screen above) where you can tap a location and message it to folks while also adding it to your share page and private web tracking site, where every outgoing message is also logged. The inReach system becomes a planner and log book, and quite possibly a backup chart plotter...
And of course the bigger keyboard of a pad is all the better for using the full 160 character messaging available. You can say a fair bit in that space but I didn't have room to note that when I sent that message above the inReach was 20 feet and two walls away, and still connected, and it got off all the messages I sent this morning despite being just east of my tall house and under a lot of fresh green leaves. I also tried NIMH batteries this morning, which DeLorme only recommends for an emergency. But one set did get a few messages and track points off and when they failed in the middle of a message send, the process started right up again after I changed batteries. It's that kind of "fool" proofness that I didn't see in the earlier model that I'm really liking in the 1.5 and iPad combo.
Not that all is perfect. For reasons unknown my inReach MapShare page is only showing data from the first test unit -- and there isn't any for the last 30 days -- even though it was working fine yesterday. DeLorme is working on it and if you see data like Gizmo's temporary home at the head of the harbor below, feel free to text me. I'm into some projects that have me deep in the bilges and panels but I'll keep an eye. Oh, one of several inReach 1.5 improvements I probably missed above is a clear LED signal when a new message comes in. Plus the Earthmate app posts notifications on the iPad. Nice!
Excellent PS 6/19: inReach NOAA charts are official, at least in the latest iOS version of Earthmate. I think the file compression and anti-aliasing could use some work, but the interface for selecting, previewing, and downloading charts is excellent, plus they quilt and are available at no extra cost.