Marinco Miami, the EEL & Precision wireless spotlight
... written for Panbo by Ben Ellison and posted on Apr 10, 2012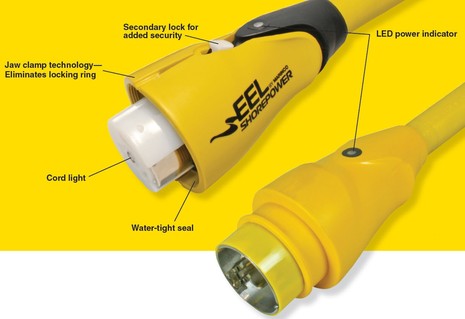 EEL purportedly stands for Easily Engaged Locking system but perhaps more to the point are the strong and sleek eel-like jaws of Marinco's new shorepower connector. It's designed to work with existing screw-on-ring inlets -- like Marinco's own 30 and 50 amp models -- except that now you can easily and quickly make the connection with one hand. The EEL even has a built-in LED light for orienting the blades, but just grabbing the jaws tends to orient the plug correctly anyway, so hooking up is just a matter of a little twist and then letting the jaws grab the inlet threads. There's also a secondary lock though the product manager at Marinco's Miami press conference suggested that it was more about peace of mind than necessity. Those jaws are apparently moray eel strong, but is the EEL a sufficient response to the Smart Plug challenge?...
Well, the EEL seems as easy to use as a SmartPlug while not necessitating replacement of a boat's existing shorepower inlet. Then again you won't get the thermal protection built into a SmartPlug inlet, but the EEL's spring loaded jaws and thick gasketing look like they'll better prevent the movement and moisture intrusion that largely cause thermal issues in the first place. Then again, the SmartPlug design has larger contact surfaces, also thermally important, but the EEL proudly carries a UL Listed mark while SmartPlug has the less well known ETL Approval. In other words, comparisons are difficult! I'm only comfortable concluding that Marinco has improved its shore cord technology while keeping it backwards compatible, and SmartPlug is offering an interesting alternative. Fair statement? If you were building a new boat which way would you go?
But just the fact that Marinco held a press conference in Miami seemed a sign of change for a company that's long been dominant in its niche though not especially innovative (the GalvanAlert being the exception I recall). I suspect that the family of marine brands put together in recent years by the huge Actuant corporation is gearing up for the future, and I'll share some other evidence of this soon. But also on display in Miami was Marinco's cleverly designed Precision spotlight. That low profile is possible because the 120 degree tilting mechanism is entirely internal, which also means less work and exposure to the elements for the tilt bearings. The spot also rotates 370 degrees at two speeds, and the included wireless control permits auto panning and an SOS signal. Additional handheld and wired remotes are supported, and the 12 or 24 volt 100 Watt halogen bulb is purportedly easy to find and replace. See the detail video here. Doesn't the Precision seem well designed and innovative for a pan and tilt spotlight that starts at about $360 in white?