KEP dual touch marine monitor, in the real world
... written for Panbo by Ben Ellison and posted on Apr 16, 2012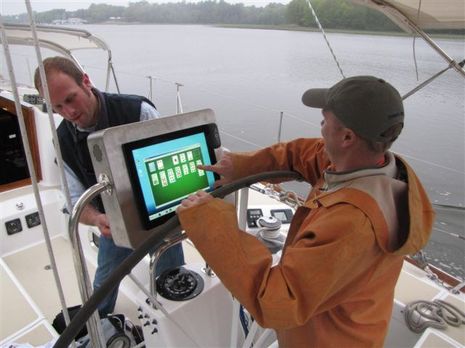 Here's one way to test a newly installed KEP Marine Glass Bridge Monitor, supposedly the first with dual touch technology (which happens to work well with Windows 7). The owner of this J160 racer/cruiser was purportedly very happy with it last season, but there was, in fact, a problem getting the touchscreen signals to consistently make the 25 foot trip from the helm to the nav station PC below. Adam White (left) -- former electronics guy and now service manager at Yankee Marina & Boatyard -- worked with KEP to solve the issue...
Actually White used extenders for both the VGA and USB lines due to both the length and the tightness of the cable runs. Apparently the Intelix VGA balun solution worked fine, but the Quiktron USB Superbooster not so much, occasionally losing signals after a half hour's use. Just the sort of failure that can drive an installer or manufacturer nuts, not to mention the boater paying the bills, if the problem isn't detected first. At any rate, KEP suggested a more expensive Extron USB Extender, and that's working fine with Windows Solitaire or touch friendly programs like Nobeltec Admiral seen below...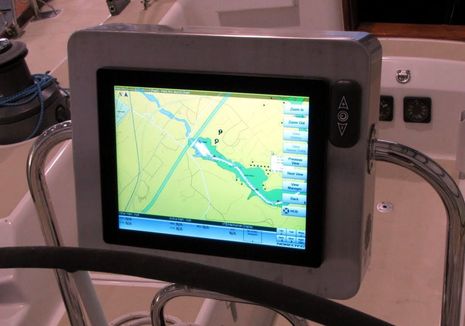 KEP may not be a familiar name to many boaters, but it's a big company which has built a lot of very nice marine monitors under other brand names. For instance, rumor has it that KEP manufactured the original Raymarine G Series screens, and are now making Simrad's new -- but little publicized -- MO-L series LED-backlit monitors. The marine division of KEP also makes computers as well as AV and vessel monitoring systems.
Here's a peek at the J160's well-equipped nav station, where you can see a standard Samsung monitor apparently sharing the same PC as the helm display. The boat also seems to have a Furuno NavNet Vx2 radar/plotter, two on-deck cameras, and an Iridium phone sharing a Panasonic handset system with a cell set. I like the paint masking tape used to remember critical info, and note that Adam's phone number made the cut!