Cam crazy Miami: Flir, Garmin, Iris, & OceanView
... written for Panbo by Ben Ellison and posted on Feb 20, 2012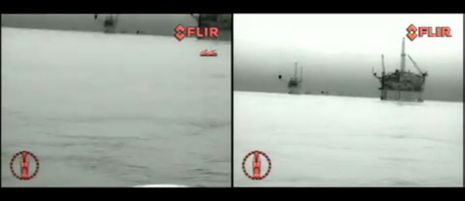 The surprise of the annual FLIR/Raymarine Miami Show dinner-and-demo cruise was the introduction of a higher-end M-Series camera with two-axis gyro stabilization and other enhancements. You can download the M-618CS brochure here, and also see a video illustrating how well it corrects the camera for pitch and yaw (but not roll). I saw it in action on the otherwise calm-water cruise thanks to a clever motion-simulating mount FLIR engineers came up with, and the stabilization seemed quite effective. The M-618CS -- along with its sibling, the Raymarine T470SC -- also has a color low-light camera with 10x optical zoom. Plus its 640x480 resolution thermal sensor has a 18°x14° field of view that differs from existing M-Series models, and is purportedly able to detect a person overboard at 4,000 feet. Though even the online discounter prices are north of $33,000, I'm pretty sure that the M-618CS is the least expensive stabilized thermal camera ever...
The next night I was out on a lovely Sabre equipped with the new Garmin cameras discussed here last week. The MFD software integration isn't finished quite yet, but I still saw a lot to like. The user below is using his finger to pan, tilt, and zoom the low-light GLC 20 well enough to read the signage on a fairly-far-away blimp (ah, Miami!). Which was impressive, though I also saw a new Raymarine e-125 touchscreen run a FLIR cam as quickly and smoothly last week, and that useful camera orientation graphic lower left is nearly ubiquitous. However I've never seen a PTZ camera screen where you could tap anywhere on that graphic to whip the camera there, which is a nice shortcut to multiple swipes or even a pan knob...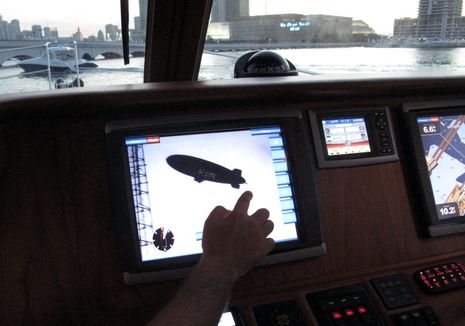 In fact, by the end of the demo I could barely think of a camera control Garmin hasn't included. Besides the MARPA target tracking which we saw work well--and the AIS, chart object, and hot spot tracking to come--you can set up 45°, 90°, and 180° automatic sweeps, and you can also sync two cameras. (Getting separate Garmin low-light and thermal cams is the equivalent of, say, a dual payload FLIR M-Series, except with a redundancy versus install complexity trade off.) At any rate, Garmin now has GCT 30, GCT 20, and GCL 20 details and pricing up, including some good video.
Some folks are claiming that the Garmin cameras are identical to those offered by Iris Innovations in the UK, and it was interesting to see Iris make its U.S. Show debut in Miami. But though neither company will confirm their relationship, I am quite certain that while Garmin's cameras are built by Iris, they are NOT the same cameras Iris sell itself. In fact, the Iris goal is to develop an advanced marine CCTV safety and security system that I saw previewed on that non-Garmin touchscreen below and hope to cover when finished...
And despite other rumors, I'm fairly certain that the new OceanView Astra thermal and low-light cams have nothing to do with Iris or Garmin except for a common case supplier. Meanwhile, OceanView surprised with something called the Sea Watch which purports to let you "See in total darkness for a fraction of the cost of a thermal camera." So far only found on Facebook, the Sea Watch uses an infared illuminator to give its (28x optical zoom) low-light cam an "up to 390 foot" range in no light. It will be interesting to see well it works, plus it's worth noting that this and other OceanView cameras work with the great tracking features that are now in MaxSea TZ Explorer and which are promised updates to Furuno's striking NavNet TZ series. Anyone getting nav cam envy yet?