Navico GoFree, a WiFi & apps strategy partially revealed
... written for Panbo by Ben Ellison and posted on Jan 9, 2012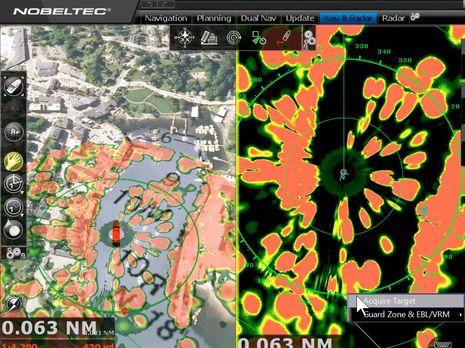 I think of the beautiful and very powerful iPad navigation screen above as a bit of a tease. Yes, that's Furuno UHD radar overlaid on Nobeltec TimeZero Trident and, yes, I could even control it from the pad as I moved around Gizmo. But there was a lot of complexity behind the scene -- like the NavNet 3D MFD12 forwarding the radar to the PC actually running Trident -- and the control was awkward as that's not a real iPad app but rather SplashTop repeating the PC screen. Then again, isn't this a tease of what should be fairly simple and ubiquitous eventually? Heck, I've already been told that Raymarine is committed to making its RayView streaming app two-way at some point, and Furuno or Garmin could make something similar happen at any time. But Navico seems to be first with a written plan, even if it includes some uncertainties...
Let's acknowledge right up front that Navico's GoFree wireless strategy is only a plan so far. The actual purpose-built WiFi device isn't expected to be available until "late Spring 2012" and I'm not sure that all three tiers of app access will be there when it is released. I make this point because folks are already pretty excited about hooking their phones and pads to their marine electronics and someone has already written on the Hull Truth that you "can now get WiFi unit for Simrad." No you can't, but the plan does sound very interesting
Besides the "GoFree Wireless Technology Application Update" I recently received (hopefully online soon), I now also have a copy of the more generalized GoFree release that Kees heard about at METS. The center of Navico's strategy seems to be a single marine WiFi device that can connect mobile apps to a boat's whole Ethernet network, instead of putting WiFi into each MFD (take that, Raymarine!). And remember that Navico -- and all the others, I think -- bridge NMEA 0183 and 2000 data onto their proprietary Ethernet networks. So they can completely integrate wireless apps with their systems and/or give apps developers that ability with a software developer kit (SDK).
Apparently Navico plans to do both. "Lowrance, Simrad Yachting and B&G are currently working on an app for iPad/Android devices that will enable remote viewing and control of an MFD." And, as shown in the diagram below, the data will also be available to developers and hence to us in three tiers. Even the "Tier 1 NMEA-0183 style data" is attractive as there will be no additional wiring needed to get it to your apps. Of course "Tier 2 NMEA 2000 style data" is also attractive, and devices already designed to handle both these tiers -- like the DMK and Chetco boxes -- are getting a lot of attention. I'm not sure what Navico means by "Free on agreement" though I'm hoping it's simply a licensing and testing program to prevent developers from putting defective messages back into the system.
Meanwhile, "Tier 3 Video/Radar/Sounder data" is the holy grail of mobile nav apps development but "Price on agreement" is the big question mark. How much will it cost to, say, get the rumored iPad version of Coastal Explorer with complete access to a Lowrance, Simrad, or B&G sensor system? I have no idea at this point but will be trying to find out as GoFree moves from plan to reality. In the meantime, app developers might want to contact Navico's wireless product manager Robert Langford-Wood (robert.langford-wood at navico.com) about getting on his email list!