Costa Concordia: "Vada a bordo, cazzo!"
... written for Panbo by Ben Ellison and posted on Jan 18, 2012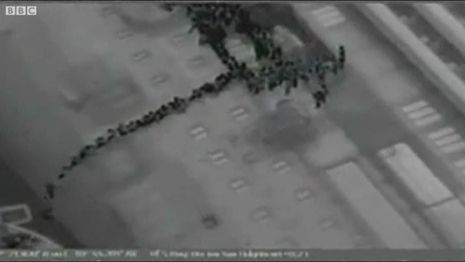 The wrecking of the Costa Concordia is of course a dreadful and criminally unnecessary disaster. It's hard to find anything positive about what happened, unless perhaps you're another captain whose life became defined by a single major screw up, like, say, Joe Hazelwood. The Monitor did a good job delineating Capt. Francesco Schettino's Top 4 'deceptions' today and that was before Schettino made the claim that he abandoned ship because he tripped and fell into a lifeboat! I suspect that it will be a long time before anyone beats Schettino in the disgraced ship captain department...
If there has to be a marine disaster, I for one am glad it's not one that can be knee-jerk blamed on modern marine electronics. The Concordia sinking seems to be all about cascading human errors, and, in fact, technology has been helpful in the aftermath. Example number one is the thermal imagery seen in that helicopter video above of passengers rappelling down the wreck's hull into lifeboats. Thermal is amazing at distinguishing hot bodies from cold world, even in daylight, and must have been a big help to the rescuers trying to get those four thousand passengers and crew ashore.
And there's little doubt that AIS will be useful in reconstructing the "accident" though I think it's interesting how confusing the early reports were. The gCaptain, which has covered the story very well, at first published a number of scenarios that were obviously based on only partial AIS data. As extrodinarily incompetent as Capt. Schettino seems now, he did not try to drive his ship through a passage barely wider than its 36 meter beam. And as much as I appreciate Marine Traffic, the fragmentary AIS plot below surely suggests that the Concordia was at the very edge of its coverage.
I guess it's good that folks are learning about AIS this way, but it would be even better if everyone understood that a Class A vessel going 15 knots like Concordia was transmits its position every 6 seconds, or about every 150 feet. Apparently Lloyd's has better AIS coverage of this area and is now reporting that Concordia made a similarly close "show off" pass by Giglio last August, with company permission. It will be very interesting to see if the coming investigation finds fault with anyone beyond Schettino. Did he have obvious character defects that management should have noticed? Was the crew properly trained for situations like this? Was the cruise ship company sloppy about safety?
I also suspect that heroes will surface. Who, for instance, managed that pitch dark ant line down the side of the ship seen in the top image? And I'm happy for the Italians that one hero has already emerged in the form of Coast Guard Captain Gregorio De Falco, the man who told off Schettino in no uncertain terms. Apparently T-shirts printed with Falco's angry admonition "Vada a bordo, cazzo!" are already selling briskly in Italy (and I'd be pleased to wear one). For the full meaning, I'll have to send you here, but after that please share your thoughts on Costa Concordia. What's to learn?