Open N2K to WiFi, Chetco SeaSmart & DMK Yacht Instruments
... written for Panbo by Ben Ellison and posted on Dec 13, 2011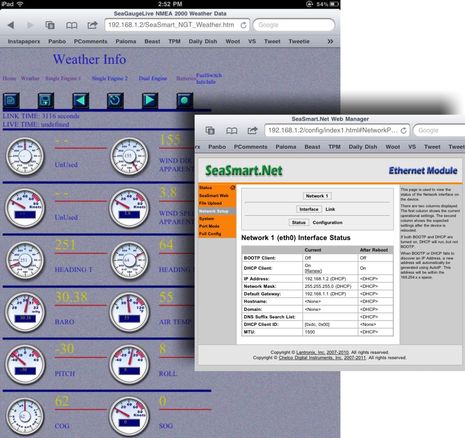 It took me less than an hour to cable a sample Chetco SeaSmart E-Net to Gizmo's NMEA 2000 network and WiFi router and use the boat's PC to scan for its IP address, which then yielded screens like the "Weather Info" browser page above on both my iPad and Android Incredible phone. Cool! And if I was actually proficient at the sort of IT stuff represented in that SeaSmart "Network Setup" screen, it probably would have been quicker. Admittedly there are some issues with that data -- Gizmo was not pitched 30 degrees, for instance! -- and I've got a lot more testing to do, but I am excited about the growing number of devices designed to gateway NMEA 2000 (and other boat sensor data) out to Ethernet and WiFi in forms that can be easily displayed, or, better yet, easily used by any software developer...
I wrote about Chetco Digital's various SeaSmart devices in February, and was pleased to meet the principals Steve James and Joe Burke in Fort Lauderdale. I've also mentioned how Digital Yacht's BOATraNET is getting N2K compatability, as well as specs published for developers about how the PGN data is encapsulated (like Chetco offers). And of course Maretron was really first up with its IPG100, also covered here last February -- and now it's gone on to solve off-boat monitoring issues like fixed IP addresses with its new Maretron Cloud Service. But Maretron's gateway serves data exclusively to its own PC and mobile software, at least so far, and there are boaters out there dreaming about what an open apps world with access to multiple boat sensors could be like...
Those folks will be excited to hear about a brand new company, DMK Yacht Instruments, which has developed a WiFi gateway purportedly able to broadcast NMEA 0183 and Raymarine SeaTalk sensor messages as well as N2K PGNs. The box is available on Amazon for $399
, a free demo iOS app is up on iTunes, and DMK is hoping developers will use its reference materials to put the data into their own apps. I think I'll get to try a DMK box myself, and have a feeling I'm going to learn some added IT skills this winter. In the meantime, I wonder what developers and informed users think of the various N2K-to-WiFi schemes discussed here.