Jeppesen C-Maps, Coastal Explorer 2011 & Plan2Nav
... written for Panbo by Ben Ellison and posted on Dec 19, 2011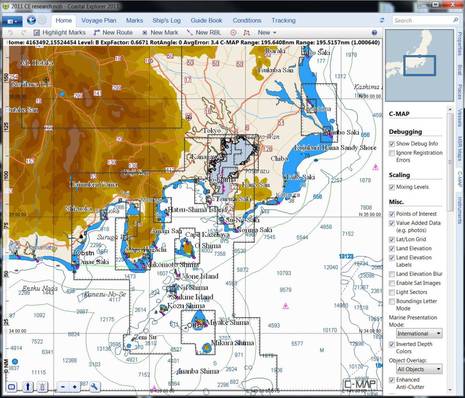 It may not matter if you don't cruise outside the U.S., but Coastal Explorer users who do seem quite excited that the PC charting program will soon support the worldwide portfolio of Jeppesen C-Map Max charts and maybe even the older NT+ format. You can hear the enthusiasm, and learn a lot of detail about how the support will work, by checking out this CE Beta testing forum entry. Better yet, if you already run CE 2011, you can download the Beta from the same page and then use its rich chart management features to download some of C-Map's generous demo cartography...
That's one thing I was doing this weekend (when I should have been attending to holiday matters ;-), and I'd say CE's C-Map support is close to done. And I was reminded how good these charts can look, and how much data and control is built in. On the right side of that upper screen, for instance, you can see some of the many layer and detail switches available on the C-Map tab to customize the chart view. And notice from the scroll bar how many customization elements are not shown. Rose Point plans to remove this tab, and simplify a user's presentation choices, before the Beta ends, but this does demonstrate the depth of C-Map's format. Meanwhile, the scroll bar below indicates how much information C-Map offers for a single nav aid on the approaches to Tokyo, and you can see how well CE presents it...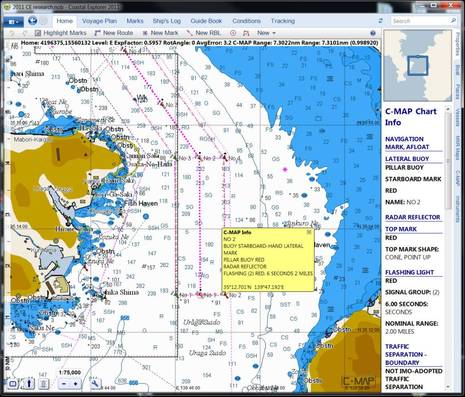 Coastal Explorer can also parse C-Map's marina info and photos to its Guide Book section, as seen nicely below, and you'll find C-Map tide and current data in the Conditions section, along with at least some appropriate weather data. CE will supposedly read charts from a C-Map card reader, though I haven't gotten that to work yet and it sounds like data stored on a PC is a lot quicker anyway. Unfortunately, CE will not support the Max Pro format charts that some (perhaps disgruntled) Nobeltec users already own, but maybe Jeppesen will come up with a deal, like it has for users migrating to MapMedia charts based on C-Map data...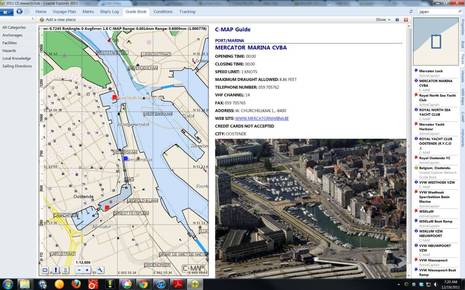 Meanwhile I've also been looking at C-Map cartography via Jeppesen's own Plan2Nav app (previewed on Panbo here), and liking what I see. For instance, the C-Marina detail of Robinhood Marine Center seen below is more useful than the Google Map info (especially when you're not online) and certainly better than the typical official chart data (which I used when writing up this fine marina for MBH&H). Incidentally, Coastal Explorer will apparently not support C-Map perspective views like this, even if some users like me think that their devotion to 2D is getting rather stubborn. More on Plan2Nav soon.