The DAMEs: DY iAIS, the iThing onslaught & more
... written for Panbo by Ben Ellison and posted on Nov 15, 2011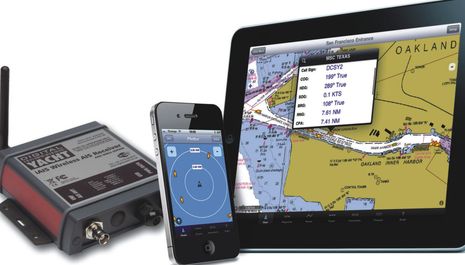 So this morning Digital Yacht's iAIS won the DAME award in the electronics category, but the thing I noticed is that four out of the six nominees chosen by the judges involve the integration of normal boat electronics with mobile apps devices. And frankly -- as handy as the iAIS looks to be -- I think a couple of the other nominees better illustrate where this phenomenon is headed. Heck, the RayView app on an iPhone or iPad will not only stream AIS and everything else on a Raymarine e7 screen, but is planned to eventually serve as second station, and the e7 can also easily sync routes with Navionics Mobile (and that integration may also expand). And what about the Fusion 700 Series with its trifecta of app device, NMEA 2000, and Ethernet-to-MFD control possibilities?...
Well, it's not easy to inspect 133 entries, select 43 nominees, and then hone those down to the winners of eight categories. And I can tell you from watching the DAME all these years that even the Marine Software category with only one nominee wasn't necessarily an easy pick, as the judges have often declined to select any winner at all. So congratulations to Nobeltec, MaxSea, MapMedia and Furuno (they're all one, sort of) for TimeZero Trident's award, which I think well deserved even if it is very similar to MaxSea TZ. It takes a while to comprehend how useful good 3D charting can be. (It also takes a fast PC and a good screen, as Gizmo got this summer, but now I'm even using TZ to illustrate Gunkholing columns).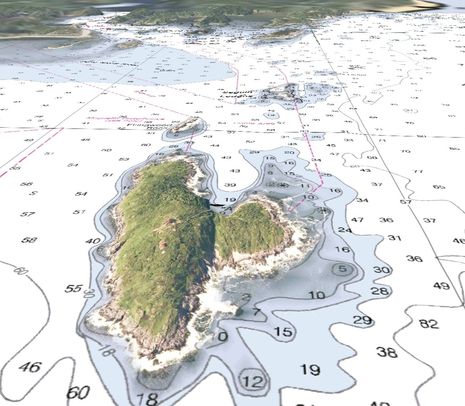 Meanwhile, a nifty looking Spinlock life jacket won the DAME safety equipment category but the FLIR MS handheld thermal cam and the McMurdo/Kannad SafeLink R10 AIS SART both got Special Mentions. One nominee I'm curious about is the Seagull Security CrewFetch, an elaborate sounding new MOB system that WhiffleTech will bring to the U.S. when the standards get settled. Below is the little CrewFetch beacon that folds into an inflatable life vest pocket.
Oh, and the Scanstrut iPad case got a Special Mention in the clothing and crew accessories category. You can read all about the DAME products and awards here, and tomorrow we'll hear about what Kees saw at METS. Do you suppose there was some news related to iThing integration?