Cheoy Lee Alpha 76, SmartGlass & SiMON2 iPads
... written for Panbo by Ben Ellison and posted on Nov 1, 2011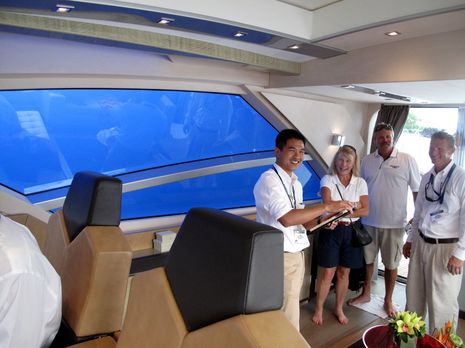 The Cheoy Lee Shipyard hasn't been building ships and yachts since 1870 by resting on its laurels, and that young man -- who apparently represents generation five of the yard's continuous Lo family ownership -- is obviously pleasing some prospective clients with his demo of the first Alpha 76's unique "SmartGlass" system. I was impressed too. A slider on his iPad (or a wall switch) made those huge side windows go from crystal clear to deeply tinted to somewhat translucent but completely private. Even if there was a way to fit curtains without messing up the Alpha's clean interior design, the SPD-SmartGlass technology seems cooler. And let's further note that the iPad app in Lo's hands controls much, much more than the windows...
I wish I'd been able to photograph the Alpha's helm from a stepladder, because then you could see the regal sight lines from the triple helm chairs and also how the whole area forward of it is a dramatic clearstory over the lower salon and galley. (If anyone does find good shots of this yacht online, please let us know.) I also thought it neat that the wheel is removable -- hence the round wooden cover -- and you can drive the boat with a lever and throttle/shifter on the arms of the central chair. The joystick is for maneuvering in close quarters with the ZF 4000 Pod drives, and frankly I'm not sure where the controls are for the Furuno NavNet 3D MFDBB showing on the port and starboard monitors.
But I do know that the sexy systems screen on the middle monitor is actually just a repeat of the Palladium Technologies SiMON2 app running on the two built in iPads. An important aspect of SiMON Squared, according to Palladium CEO Mike Blake, is that there is no PC involved; it's built purely of programmable logic boards from Schneider Electric, a little custom Palladium hardware, and redundant iPad apps. And it's come a long ways since I wrote about it last year, as you can see in this video or by downloading the demo on iTunes (for $4 unfortunately)...

And even the latest SiMON2 marketing won't show you how it can control the Alpha 76's power cleat. Power cleats? Yup, while it looks like the Maxwell AutoCleat was designed to make sailing off a mooring easy, and to clear the foredeck at the same time, why not use them to drop the docklines on a large yacht that can be run by its owner? I gather that it was discovered at the Fort Lauderdale show that SiMON2 made dropping those lines by mistake a little too easy, but this is Alpha system #1 and that can be fixed in a flash with password protection or something similar. And as we saw last week with Vetus, critical controls well beyond cleats are going to wireless pad and phone control at an amazing rate...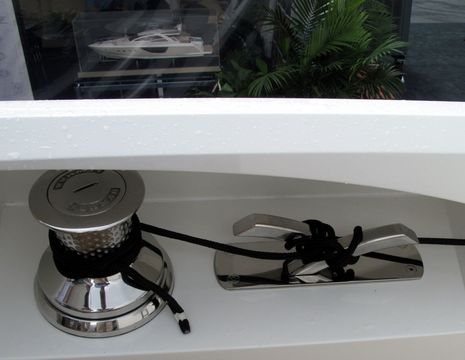 In fact, Mike Blake showed me a rendering of how an iPad will be able to control the triple engines on the remarkable 146' power trimaran Adastra. Even Mike, who loves iPads and fun new technology, seemed a little dubious. But this is what the customer wanted, and this is where we're headed.