NMEA 2011 Technology Award, the pace quickens
... written for Panbo by Ben Ellison and posted on Oct 8, 2011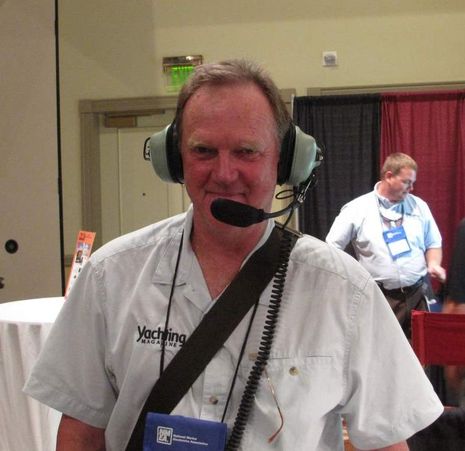 The Florida trip was a hell of lot more fun than the virus problems I came home to. For instance, just like last year's NMEA Technology Award, I got to accessorize my noggin with an interesting gadget (though I've worn weirder). In this case it's a David Clark Co. marine intercom system, which now has a wireless gateway that the company had nominated for the award. To test its claimed 300 foot range, my fellow judge Bill Bishop hiked down to the end of the Expo hall and eventually outside the huge building, all the while chatting with myself and third judge Tim Queeney, all of us in a beautifully noise-cancelled full duplex sonic cocoon. Though it's quite expensive, Clark really has this technology down. There's even a virtual lady in there somewhere who tells you when you've lost or regained contact with the base station...
Bill, Tim, and I had all studied the thirteen nominated products before we got to Fort Meyers, but we also got to see them in Expo booths, often with expert guidance and Q&A opportunities. At the very beginning, we'd made an agreement to avoid coloring each other's thinking as we toured the Expo and we started the deliberations process by sharing our individual top three picks. Only one product appeared on all three lists! And though that one product did end up being the winner, we spent a lot of time further contemplating and discussing our collective top five.
That's real evidence of how competitive this new technology award is. Consider our criteria -- Innovation, benefit to boaters, practicality, and value -- and then this sterling list of products introduced in the last year: ICOM IC-M24 Handheld VHF, Raymarine e7D Multifunction Display, FLIR First Mate MS Thermal Imaging Camera, Intellian i6W WorldView Marine TV Antenna, KVH TracPhone V3, Geonav G12 Multifunction Display, Sea Tel ST24 Stabilized Marine TV System, SI-TEX SP-110 Autopilot System, Simrad BSM-2 Broadband Sounder, Jeppesen C-MAP 4D Cartography, KEP Marine KEPM GB Dual-Touch Glass Bridge Display Series, and David Clark U9921-GUV Universal Gateway.
I left the winner's name off that list, just as I saved it, TV-awards-show-style, until the end of my little spiel at the closing NMEA banquet. The press release, which should be online soon, has my fuller quote, but the jist is that the judges felt that we had seen a whole new and valuable marine electronics category in the little Linux server and related apps system known as Digital Yacht's BOATraNET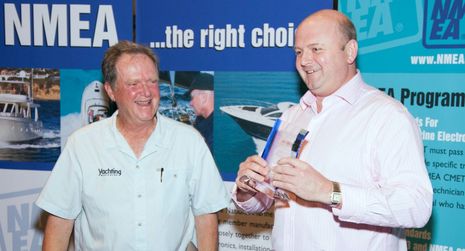 Boatranet has come a ways since I wrote about it; it's now up for NMEA 2000 certification, for instance, and DY seems committed to open sourcing the data flowing from it. But I think it's safe to say that Nic Heyes was pretty surprised to receive the award, especially given that Digital Yacht came to its first NMEA conference just three years ago. I also heard a lot of enthusiasm about our choice from other manufacturers in the room. I think they all recognize that marine electronics is evolving quickly, just like consumer electronics and other technologies. But I wonder if any of us can see how fast it's going to get?
I've been thinking recently about Ray Kurzweil's extraordinary theories regarding the exponential growth of technology, and I probably would have yammered about them if I'd had more time before the NMEA crowd. The basic idea is that even though we feel like things are changing fast, we have a hard time conceiving how fast the rate of change is changing. You can read some dense Kurzweil here or watch him at TED here.
But his graph below, which is logarithmic not linear, is a short course. We are moving fast from a world where $1000 worth of computer "equals" the brain power of a mouse to a world where it "equals" that of a human brain. And not far beyond are inexpensive computers with equal the brain power of all humans, and supposedly something called technological singularity, which I gleefully learned yesterday is also known as "the rapture of the nerds"! What I wan't to know today is when will computer viruses be totally conquered...or will it go the other way, with everything becoming grey goo?