NMEA 2011 Expo, neat new stuff #2
... written for Panbo by Ben Ellison and posted on Oct 10, 2011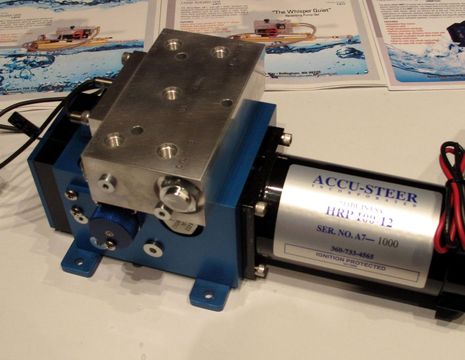 Yes that's an Accu-Steer reversing hydraulic pump meant to push a rudder around, but that block on top is a patent-pending sensor co-developed with FurunoUSA, and the whole package leads to the very interesting "Safe Helm" and "Power Steer" features coming to the latter's NavPilot 700 (which explains why the pilot came out elsewhere earlier). Safe Helm sounds a lot like the "Shadow Drive" feature so far only seen on the Garmin GHP 10 pilot for hydraulic steering systems; instead of poking a StandBy button, you simply turn the wheel to disengage the pilot and steer around an issue, then let the boat settle on a course again to re-engage. It's elegantly simple (I've tried the Garmin version), and it's potentially great that it's is no longer exclusive to one manufacturer. And apparently Furuno's unique method also means that the pump can be used to power assist a steering system, with numerous controls for how that's done -- like variable assist at different speeds -- built into the NavPilot 700...
So here we go with more neat new stuff I saw at the NMEA Expo (part #1 is here). And speaking of autopilots, Simrad introduced the AP70 and 80 professional series along with three different remotes and seven course computers. Unfortunately my photo of the beautiful 5-inch color screens is not worth posting, but the Simrad AP70/80 site will give you some indication. And I did get a reasonable shot of the Argus radar system also being introduced by Simrad Pro. At heart it's an IMO-approved X-band system able to handle up to four scanners with features like overlaying one set of target imagery over another. But the Anti-Piracy model also lets a ship or superyacht integrate Broadband Radars -- which aren't IMO approved because of their ridiculously low power ratings (the IMO might need a new spec) -- for close range surveillance. Hence the Broadband inset on the screen below showing the area right around the stern of ship (that seems to have its butt in a channel)...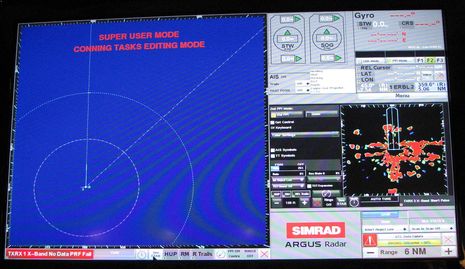 Meanwhile the WxWorx division of Baron Services -- which notably supplies the data for XM Satellite Weather -- introduced new hardware. The WR-10 receiver at left includes a WAAS GPS and can output via USB, Ethernet, or RS-232 serial, and it can deliver XM radio as well as weather. You can accessorize the new receiver and several older models with the new Mobile Link, which will serve the data over WiFi to "soon-to-be available" iPad, iPhone, and Android apps. I gather from the press release (only the aviation versions are online so far) that not all weather data categories are supported by Mobile Link yet, and only WxWorx on the Water will support Baron's new 2 kilometer sea surface temperatures, at least at first...
At NMEA I was pleased to learn that Icom's Class B AIS transponder, the MA-500TR we first heard about more than a year ago, is finally FCC approved and shipping. It obviously has its own target tracking screen but also has three NMEA 0183 ports for connections to PCs, MFDs, and radios -- it will do auto target calling with certain Icom radios -- and it can also handle waypoint navigation. It also seems to be the least expensive Class B with screen (Defender link here) though it appears to be built Icom tough. (I'd still take a long look at the Vesper WatchMate 850 or a Simrad AI-50 if you have Simrad MFDs).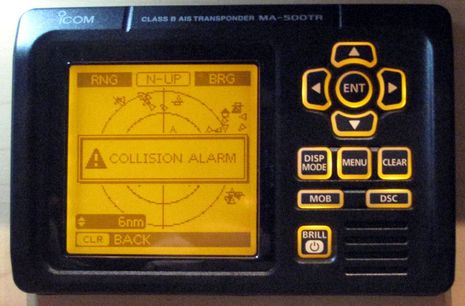 And I'll close with one more look at the new Fusion Marine Stereo stuff I enthused about last week. I forgot to mention that the 700 Series heads also contain a VHF receiver and you can scan selected channels. Picking those channels and setting the squelch is what's happening on that iPad, and the results are immediately showing on the IP700 color screen and the NMEA 2000 remote...and could also be showing on an MFD that includes Fusion-Link.