IBEX 2011: Vetus, Volvo Penta, Tallon & Southco
... written for Panbo by Ben Ellison and posted on Oct 25, 2011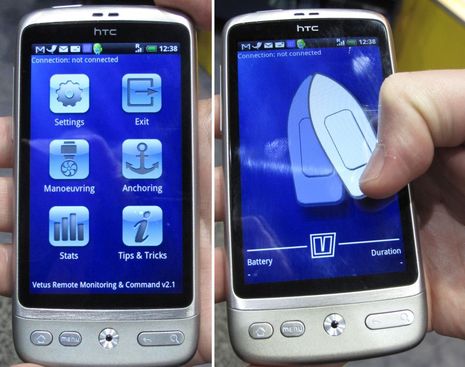 Vetus already had wireless remotes for its thrusters and windlasses, so why not develop a Bluetooth hardware interface and an app that can do more than even a wired control head using the smart phone many skippers already have in their pocket? I can't find anything about this Remote Monitoring and Command app online but Vetus was showing it off at IBEX and it will probably be officially launched next month at METS. I understand that they'll also have a new rim drive thruster there, and at Newport they were demoing a 4- and 5-cylinder diesel design that can supposedly benefit from its turbo at any rpm...
Marine propulsion has seen some remarkable developments in recent years, and I was impressed with the simulator Volvo Penta has created to demonstrate how IPS works. Note the little window at lower left that shows you what the drives are doing to move the virtual boat as you've commanded with the joystick. There's even realistic dock crunching audio effects if you mess up, though that's hard to do. I imagine the simulator will also be in Fort Lauderdale, where I happen to be already. (I'll be attending a couple of live new product demos, and you'll hear about them soon.)...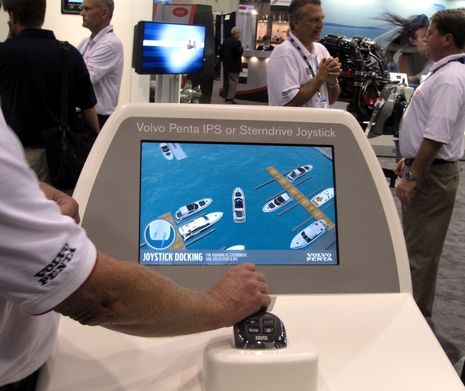 I also got to meet Tallon's Duncan Good at IBEX, as he toured various partner booths toting his customized hardshell backpack. There's even a 12v battery in there so he can demo powered mounts like the Lowrance and USB Sockets discussed here recently. I also got to handle some Tallon sockets that were mounted on sturdy booth exhibits and was pleased to find that while easy to lock in, they are very solid once locked. In fact, I learned that you can even hang a fair sized monitor on a Tallon socket...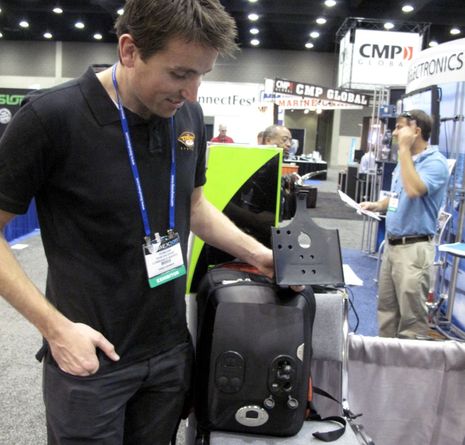 Below is Southco's Dynamic Mounting Arm mounted on a locking Tallon socket, and therefore able to be moved to other sockets around a boat. But even if you don't use the Tallon socket, this has to be one of the best designed and built swing, swivel, and tilt monitor arms I've ever seen. Video here. The fact that you can't adjust the tension of the moving joints is a bit worrisome, but the unit did seem plenty stiff enough to handle most boat motion. I didn't know Southco before, but the company definitely offers some interesting marine gear.