From Tallon, smart iPad & electronics mounts
... written for Panbo by Ben Ellison and posted on Oct 12, 2011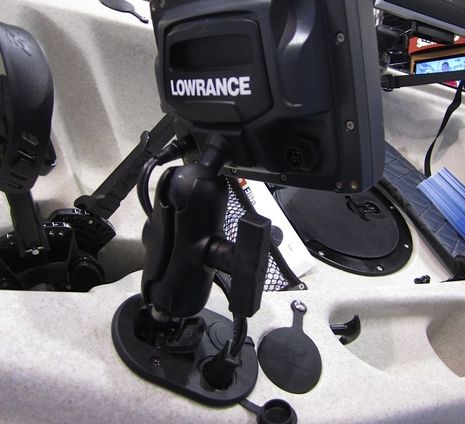 I think mounts are a big deal. There are all sorts of electronics (and hardware) that I'd like to move around my boat (and beyond) some times, but other times I want them firmly fixed (though hopefully with possible adjustments for glare and so forth). And though I've yet to try any, I'm impressed with how Tallon is extending its already interesting mount system. Check how neatly that new Tallon Lowrance Elite Socket makes both the adjustable RAM arm and the power/transducer cable easy to dismount, and how it includes an extra 12v socket too...
The Lowrance Elite press release is here and indicates that this product is a conscious colloboration between Tallon, RAM, and Lowrance. Smart! Which is also what I thought when I learned about Tallon's Ultimate iPad Mount a few months ago. Why design and manufacture your own iPad holder when RAM has it covered? But do develop a socket system that makes the RAM gear easier to use and nicer to look at on a boat.
Incidentally, I asked Tallon about what's on the other side of the Elite USB Socket. I was hoping for a single 12v lead that would power both the USB and lighter-style outlets, but in fact they're separate male USB and 12v leads. So installing one of these requires a 5v USB supply, and a 2 amp one if you want to charge an iPad (mind you that most any RAM device holder will work with the socket). I'm using this XTG 12v USB rig
but does anyone know how to do a permanent 12v-to-USB install? At any rate, I'm looking forward to seeing this gear in the flesh at IBEX next week (though I have a lot to do beforehand).