Onboard WiFi hotspot, Rogue Wave & WirieAP
... written for Panbo by Ben Ellison and posted on Sep 9, 2011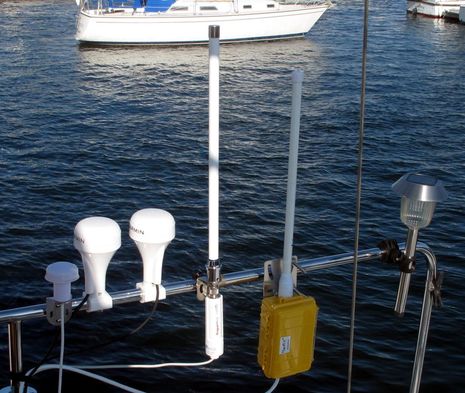 Perhaps the main thing I learned while testing the Rogue Wave and the WireAP this summer is that I love having a private WiFi hotspot on Gizmo. The Rogue is Ethernet cabled to Land & Sea's refurbished Netgear router and both are wired to a 12v fuse block, while of course the WireAP simply has a single 12v feed because both its high power WiFi client and access point are in that yellow waterproof case. So in either case I can step aboard, flip one switch and if the last shore hotspot used is still available then everything that can be online via Wifi -- Datalux nav computer, Mac Mini, iPad, iPhone, Android Incredible, or even the Vizio TV -- is online whenever it's powered up...
In fact, I tend to leave a WiFi system on because neither draws much power -- just 3 watts measured on the in-action WireAP -- and because an underway internal hotspot can be valuable even though it's not connected to the Internet. Using Splashtop to run a PC nav program on the iPad is one example, but there are numerous other possibilities I've yet to try, like getting the boat's N2K data into tablet nav app or maybe even ashore for offboat monitoring.
Actually both the Rogue and WirieAP are powerful enough to sometimes lock onto a shore hotspot even while we're motoring along a mile or more away. It's generally not worth messing with, but I once manage an email session while at cruising speed over five nautical miles from the hotel Internet source (with the Rogue). I was on the flying bridge settee with the iPad at the time but the mobiles all show 4-5 bars on the boat's hotspot wherever I am on board, including my bunk. And while going from shore WiFi to boat high power transceiver to boat Wifi radio to final destination sounds complicated, both these systems were fairly easy to set up and -- aside from finding new shore hotspots -- are virtually invisible in use. I have developed a favorite, though, and that's the Rogue Wave
It's not a matter of range. I've tried both systems in over twenty coastal locations now and they always tend to show pretty much the same list of shore access points. (It's often been a long list, too, though the proportion of encrypted APs seems to be on the rise.) They are both usually able to connect to the same spots as well, though with exceptions like the hotel mentioned above, it's often difficult to tell just how far away a hotspot is.
I also did careful speed comparisons with several solid hotspots, and that's where the Rogue Wave consistently showed better performance. In the situation seen above, the Rogue tested at almost double the download speed and about the same upload, but generally it tested a little to a lot faster both ways. I did learn from the Wirie folks that changing channels could help speed, but it never made the WirieAP faster than the Rogue, and I've never had to fiddle with the channels on the Rogue set up...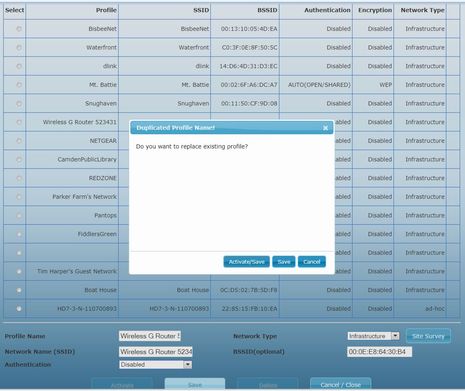 It's also a lot easier to search for new hotspots with the Rogue. With the WirieAp you need to step through several windows like the site survey and the used previously list above and you still won't know if the spot is actually connected to the Internet until you get back to the main screen. With the Rogue everything is on one screen and you'll know if a site is good with one click and a few seconds wait. In fact, the Rogue's latest firmware, which I flashed into it last spring, let's you save favorite hotspots which are automatically locked onto as needed (though that feature doesn't seem to work consistently).
Where the WirieAP may be superior is in terms of durability. I wasn't able to test that but I am impressed with how well they've put together the waterproof box and antenna, and the quality of the bracket...and I believe it is true that the Ubiquity Bullet that Rogue Wave uses for its hardware component (the firmware is their own) is designed for outdoors but not for at sea conditions. Will it stay alive clamped to a bluewater cruiser's rail? Also maybe I missed something in my testing, or maybe readers know of a better way altogether to equip a boat with its own WiFi hotspot and high power shore connection. Let the comments begin!