Iridium Force: 9575 Extreme, AxcessPoint, & the 9523 Core
... written for Panbo by Ben Ellison and posted on Sep 7, 2011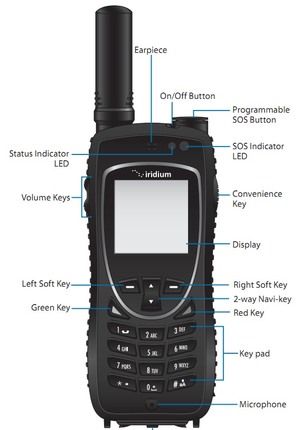 "Iridium Force" -- announced today with much fanfare -- seems to be an entire "vision for the future of personal mobile satellite communications", a bunch of new hard- and software products, and what may be a heck of a business strategy. You can read the press release or sign onto a whole Iridium site full of videos and more, but just the hardware tells a lot of the story. The new Iridium 9575 Extreme handset seen above is not just a highly ruggedized version of Iridium's most recent 9555 sat phone; it includes an internal GPS, a dedicated SOS button, and it seems capable of doing most everything that devices based on Iridium's 9602 SBD modem can do, like, say, the DeLorme inReach and the YellowBrick3 that are both due to ship soon...
In fact, the Iridium Extreme will be a certified S.E.N.D. -- which stands for Satellite Emergency Notification Device, and differentiates things like this from EPIRBs and PLBs -- as determined by the RTCM, which the Extreme brochure describes as a "Search and Rescue Regulating Body." All sorts of tracking and geofencing, intialized either on the phone or from shore, will be available through a variety of "certified online portals" that apparently all use an underlying Iridium platform. And while the two-way texting and short emails that a product like inReach can do when connected via Bluetooth to a smart phone can be done right on the Extreme, there's still a way to use it with an Android, Blackberry, or (coming) iOS app...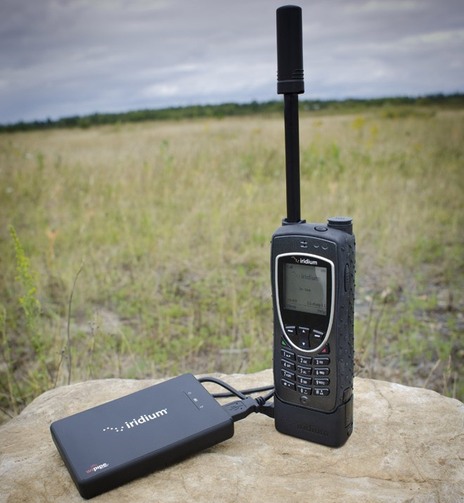 Iridium also announced a MiFi-like device called the AxcessPoint which can use the Extreme's USB data connection to create a WiFi hot spot so you can use your phone or tablet to manage your email anywhere on the planet. The AxcessPoint will work with a 9555 sat phone too, and there will also be software called AccessPoint Connect that let's a windows PC serve as a similar hot spot. It's even free, but let's note that using AccessPoint is apt to be slow going given Iridium's base 2.4 kbps data rate, and that you'll be paying per-minute Iridium connect fees any time the AxcessPoint is hot.
The Extreme phone, which is purportedly ready to ship now, is also pretty pricey, going for about $1,495 from early distributors like BlueCosmo. But it looks like a heck of a do-anything safety, tracking, and communications package for anyone who travels beyond cellular service and has a healthy comms budget. And apparently it won't be the only Iridium device with all these capabilities as the company also announced that its many partners can now work with the 9523 Core, the small module which is the data and voice "brains" of the Extreme. Are you feeling the Iridium Force? And how will Inmarsat, Globalstar, and Thuraya react?