B&G Triton, all-in-one N2K instrument & pilot keypad
... written for Panbo by Ben Ellison and posted on Sep 6, 2011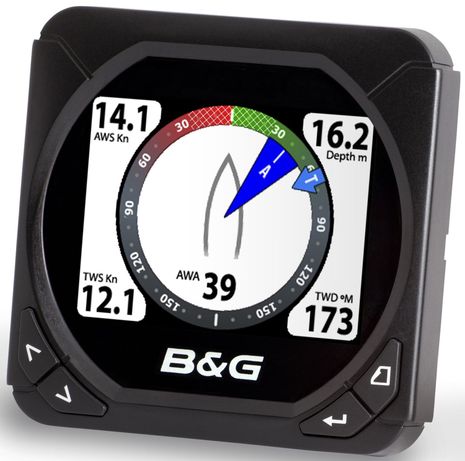 When I hinted last week that the new Raymarine i70 all-in-one NMEA 2000 instrument would soon have a new competitor, I honestly didn't realize that the B&G Triton would be announced today (with at least the Australian release online already). The Triton T41 sports a 4.1-inch color display under a 4.6-inch square bezel while the i70 has a 4-inch screen in a 4.53-inch high by 4.3-inch wide case. And I'll bet the Triton is also LED backlit as it too claims wide viewing angles along with a power range of just 50-150 milliamps, which seems similar to Ray's claimed 135ma "typical" usage. You'd almost think that Navico and Raymarine were looking over each other's shoulders!...
Also like Raymarine, B&G is being more aggressive about multi-manufacturer compatibility over a NMEA 2000 (or SimNet) data network, claiming that the Triton T41 "interfaces with B&G and Simrad Yachting Wind, Speed, Depth and Heading Sensors, as well as data sources from other manufacturers." In fact, it uses Micro-C (aka DeviceNet, aka N2K standard) connectors on the back instead of SimNet ports, which we also saw on the new NSS multifunction display series. A good trend, I think (though the T41 still won't qualify for NMEA certification because of the daisy chaining "elephant".)
I'm not sure I've ever seen an instrument screen that graphically shows apparent and true wind angles like the one at top, and the timer screen below looks good too, but we'll know more about Triton screen possibilities when B&G updates its Web site (maybe today, I'm told). However, I already know enough about the companion Triton Pilot Controller (from the U.S. press release) to think that it's a great idea...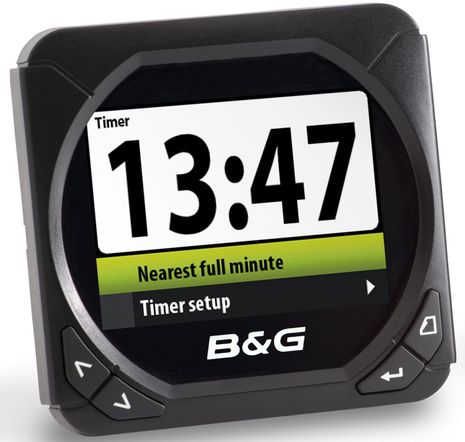 What B&G has designed is a 2.3-inch by 4.5-inch keypad that tees onto an N2K or SimNet backbone to control B&G or Simrad autopilots (actually the release is not specific about which pilots, but no control heads I know of are multi-manfacturer interoperable). The Triton T41 can serve as the display portion of the pilot head -- which means it will accommodate situations where the ideal hand and eye positions are different -- but the keypad can also be used near a Simrad NSO/NSE/NSS or B&G Zeus MFD, all of which can serve as pilot heads by themselves.
I like this for two reasons. While I'm pretty happy to use an NSE12 as a pilot head, as I described last summer, it does sometimes take more key taps than I like to change pilot settings if I've used another window on the machine. Plus neither the NSE 10 nor the AP 28 head at the lower station have dedicated 10 degree dodge keys -- great for lobster trap bouy avoidance -- like this Triton keypad does. I don't know how it was decided that dodge keys are for sailors and steering knobs for powerboat drivers, because I like both. And it looks like I can have both now.
The Triton T41 has a $599 MSRP, the Pilot Remote $299, and both are supposed to ship in January. I'm looking forward to seeing both B&G's and Raymarine's new instrument and pilot options in the flesh at the Newport Boat Show next week.