Poly-Planar MRD80i, another safe spot for digital audio
... written for Panbo by Ben Ellison and posted on Jul 26, 2011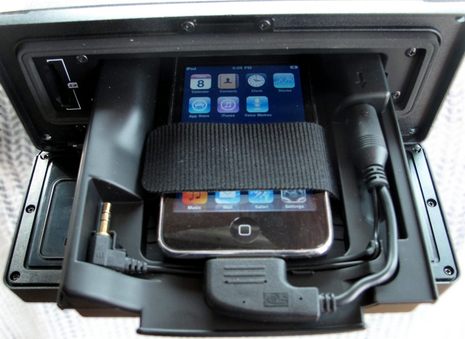 My photograph could be better, but hopefully it's clear that the Poly-Planar MRD80i has its own solution for docking iPods and iPhones safely inside a waterproof marine stereo. Instead of supplying a variety of sleeves so that different-size iThings can be inserted into the dock, like Fusion does, the 80i uses a drawer with a cushioned pad, a hook'n'loop hold down, and a wired connector. The docking process takes a tad longer but you'll never have to look for a box of sleeves when a guest brings a different model of iPod aboard, or you change up. And that's just the beginning of what makes this digital-media-friendly stereo different from Fusion's...
Note, for instance, the headphone jack so that you can also tuck non-Apple MP3 players in the 80i's dock, as well as an SD card slot that's also protected by the stereo's face plate. Fusion has neither, though its latest dock has USB sockets both inside and on the back, as seen in my first SonicHub test, while the MRD80i only has a single exterior USB port. I think it's great that these stereos support multiple digital music sources, and I use them, but none give you the sort of playlist and search abilities you get with the integration of an iTunes device.
Poly-Planar also favors more control buttons than Fusion, as can be seen by comparing the shot below with this entry showing the Fusion RA-200 and its larger mates. The result is that the 80i gives you quicker access to some functions, though the buttons are still big enough to manage rough conditions (and the whole face design does not look like it was designed for a car, which it wasn't). I must say, though, that I prefer Fusion's displays and especially like browsing my iPod Touch via the NSE12 color screen and SonicHub. The MRD80i's two line screen below can and does show tune titles, artists, etc. but the scrolling is often not as readable. Plus when you advance tracks, you get the data screen seen below instead of track title, which strikes me as the preferred choice. (But that's an interface software design choice that could be changeds, as the stereo is definitely saving titles and other info in memory, which is evident when you do searches.) Aside from those quibbles, the MRD80i is impressive...
One thing I explored in preparation for an October Cruising World article on stereos was the power demands of various stereos, and the MRD did well. I played the same music over the same speakers at about the same volumn levels on it, the original Fusion IP500, and the SonicHub, with the juice running from Gizmo's battery bank through my Medusa power analyzer. I wasn't surprised to see that the high-end Fusion with its power-efficient Class D amplification only consumes about 9 Watts in normal use and only gets up to about 12W when I pushed bass-heavy reggae almost to distort level (on pairs of Bose 9" and Fusion 5" speakers). Similarly, I wasn't terribly disappointed that the SonicHub now installed on Gizmo uses about 14 Watts in normal use and can peak into the upper 20's at high volume, because it's based on Fusion's RA200 design which sacrificed Class D for a lower price point. But, surprise, the MRD80i tested much nearer the IP500 -- about 10W normal, 13W loud -- though it makes no claims in this regard.
The MRD80i is also IP66 waterproof front and back, appears solidly built, and works with all sorts of other Poly-Planar gear, like three choices of (wireless and wired) remotes. Of course there are many more details I haven't covered, as you may surmise from all those wires coming out the backside, but manual and more are downloadable here. Anyone in Panbo land tried one of these yet?