A Gizmo preview, 4th of July 2011
... written for Panbo by Ben Ellison and posted on Jul 4, 2011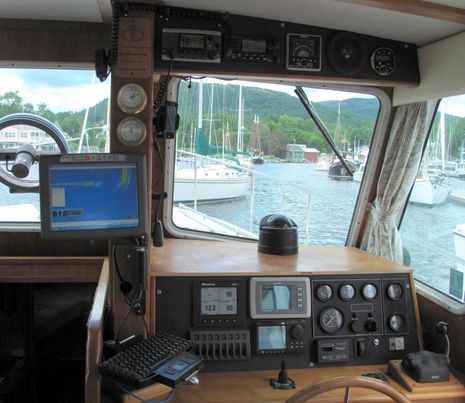 Here's hoping that everyone in the States had a fine holiday weekend. We had better weather here than you might think if you read that fog delayed two nights of fireworks, but I was busy with oodles of visiting family. Gizmo, however, is really ready to cruise, and numerous product reviews will result. Take a gander, for instance, at this seasons's lower helm configuration...
Note, for instance, the Interphase PC90 Ultrascan forward looking sonar showing on the Datalux police car computer screen. I actually got that running last Fall though I still don't feel ready to write a full review; it is astonishingly fast, and can often image a passing sailboat's keel like it is the pair extending below the float ahead of me, but my sense is that it may be better suited to spotting schools of fish than gunkholing. Note, too, the Vesper Watchmate 850 Class B AIS transponder now on the lower panel (though its screen rarely suffers from the glare caught in this photo). It was just installed last week, along with Vesper's SP160 antenna splitter, but I'm already very impressed with both. And while the Maretron DSM 250 display to its left was the subject of an entry around this time last year, now it's showing data from a DSM 100 monitoring Gizmo's main battery bank. (That install isn't quite complete -- doh!, you have to zero the current sensor before running current through it -- but it will hopefully be joined by other Maretron sensors around the engine room as well as some testing of N2K circuit switching devices from Maretron and C-Zone.)

If you recall my experiments with Azek PVC board for electronics panels last summer, and how Gizmo's original upper radio panel came out, I'm happy to report that it was quite easy to replace it this year. Gone is the trusty Fusion IP500 marine stereo because now I've fully installed the Navico SonicHub system, which can be run either with the NSE12 on the flying bridge or the Fusion WR600 wired remote. The trade-off wasn't entirely positive, but this boat is a lab after all, and it did make room for that sharp GeoNav MID 110 color instrument display. Its very unusual Ethernet port isn't yet functional, but the MID is doing nice job of showing NMEA 2000 data, which I'll detail soon.
In fact, the MID 110 is getting its GPS, depth, heading, STW, etc. PGNs (data messages) from Gizmo's SimNet networked sensors while the Maretron display is getting redundant info from other sensors on a regular NMEA 2000 backbone. Similarly, the two DSC VHF radios are each getting their GPS info from different sources, the Garmin 200 straight from the N2K backbone and the Standard Horizon GX2100 from SimNet via an AT10 translator. I can even place DSC individual calls to myself, though it was more fun to test the ability both radios have to direct dial individual AIS targets on the Sally W, which is the handsome Lord Nelson Victory Tug seen in the top photo and also here. It worked fine, but while owner Allan Seymour is a pretty loyal Panbo reader, even he had to examine his VHF screen closely to figure out how to accept a direct DSC call.
At any rate, as I wrote last week NMEA 2000 may work better than even NMEA says it does, but it's always good to have electronics redundancy. And we probably all still have things to learn about the electronics we have. More to come!