Garmin GDL 40 cellular weather, hand's-on #1
... written for Panbo by Ben Ellison and posted on Jun 13, 2011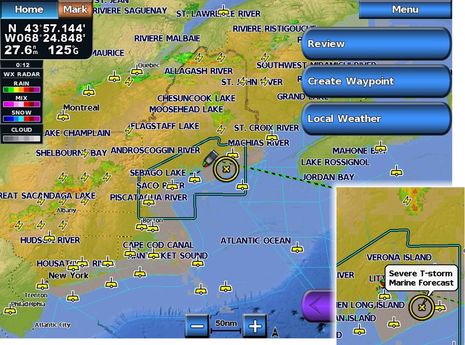 An energetic but somewhat chaotic frontal system passed over Maine last Thursday afternoon but I was able to keep on boating largely thanks to Garmin's new GDL 40 cellular weather system, which I'm getting to test somewhat ahead of the shipping date. The severe thunderstorm warning that headlined most of the NOAA coastal forecasts might have kept some people off the water. (The forecast areas greyed out on the screen above all have some sort of warning, as shown in the inset, as well as the full text, which can be called up.) But the animated Nexrad precipitation radar, along with lightning strike data, indicated that that my bit of Bay was going to enjoy a frontal hole...
Sure, I could have used other cell-based tools to get the information you can see on these screens. I'm still a fan of the Android app Bluefin Marine Weather, for instance, because it delivers a similar combination of Nexrad radar with NOAA marine forecasts and buoy reports. And I've become fond of iMapWeather Plus on the iPad's big screen, which also offers the two recently discussed GRIB viewers, particularly WeatherTrack's ability to display storm cell forecasts which seem quite accurate sometimes. But nothing seems quite as complete or handy, especially from my flying bridge, as this service integrated right into an MFD...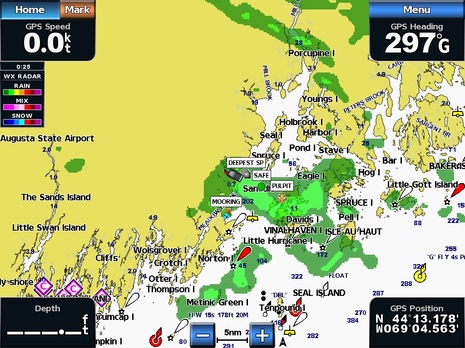 In fact, I wasn't actually planning to test the GDL 40 on Gizmo last week as I didn't yet have the antenna mount I want to use. But I had been impressed by some testing I did in the lab -- as in the zoomed-in Nexrad screen above, taken a couple of weeks ago -- and it was on board Thursday afternoon when the skies started darkening while NOAA beeped warnings over VHF and FM...so I did a quicky install. And again I was impressed with how much Garmin has learned over the years of displaying XM Satellite Weather and how similar this new service is. For instance, you can check out the data on prefigured but customizable weather screens like the one at top, or you can overlay desired info on a regular navigation chart, as above...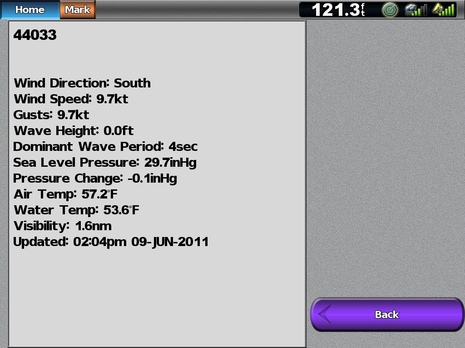 The subtleties often seem right, too. I was recently disappointed to notice that the otherwise good iOS app NOAA Buoy & Tide Data does not display the visibility data generated by my favorite local weather buoy in the mouth of Penobscot Bay. I know that few buoys have a visibility sensor -- which is probably why some developers fail to decipher the data field -- but, man, it can be useful information when the fog banks are drifting along the coast. And notice that Garmin's cell weather has it, above.
I have not yet carefully compared Garmin's cell service with XM or Sirius (your observations appreciated) but one thing I know for sure is that it is much faster the Garmin XM I tested last summer, both in terms of downloading data and manipulating it on screen. I remember having to turn on the 7212 at least 15 minutes before I could check XM Weather, while you can see in the screens below that almost all the cellular data was loaded just one minute after I purchased a $5 day pass last Thursday. In part, that's because the cellular service only downloads an area of data about 625 miles square around your position (pretty much what's seen on that top screen), which is probably also why the data seems to pan and zoom quicker.
The cellular service can customize what data is sent because the communications are two-way and so the positioned collected from your MFD and/or NMEA 2000 network can be easily send into the weather server. The download speed -- most everything in 22 seconds if you read these screens carefully -- also suggests that Garmin may be using 3G, though it's not stated anywhere I can find. It was also interesting that all that data could get from GDL 40 to MFD without any noticable hiccups with the other data passing over the N2K backbone as I drove down Penobscot Bay. I'm still convinced that the GDL 40 can do much more than weather, as I wrote about when it was announced.