DeLorme inReach, the Iridium 9602 almost surfaces
... written for Panbo by Ben Ellison and posted on Jun 8, 2011
Impatient me was beginning to wonder if the intriguing Iridium 9602 short burst data modem would ever materialize into a useful product. The Cerberus communicator and service I discussed in January is supposed "to arrive" for real in 7 days, but it's gotten zero marketing so far, and I haven't heard about any other 9602-based devices that might seriously appeal to boaters until yesterday. And, in fact, even the DeLorme inReach isn't scheduled to ship until Fall. But it certainly looks neat...
As in a $250 standalone global SOS and tracking device that can also do two way messaging when connected via Bluetooth to an apps phone or tablet, or to DeLorme's own Earthmate PN-60w. As in the existing DeLorme/Spot system, except with longer messages, faster response, greater range, and probably more reliability. The main source of info so far -- and a rather neat way to preview a product -- seems to be a DeLorme inReach blog entry written by one of the designers, who is also answering questions from commenters. Details I noticed was that the communicator itself is less than five inches tall, antenna included, and runs on two AA batteries. The tracking interval can customized, and the message includes SOG, COG, and altitude. And that slider and SOS button means it will be hard to accidentally call out the calvary, apparently a standard for SENDs (satellite emergency notification devices) established by the ProTECTS Alliance I wrote about in December...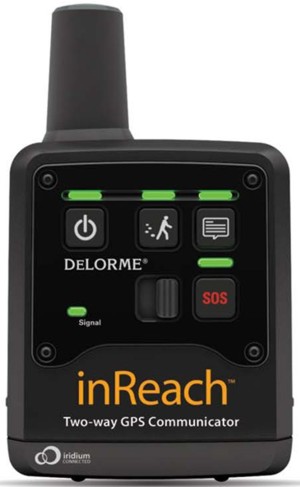 The DeLorme blog is also showing off the Android app that runs with the inReach (like Spot Connect), and it looks quite able. Of course commenters are expressing strong interest in iOS apps and I have little doubt that DeLorme will oblige. I suspect that biggest possible issue with inReach, and maybe all the Iridium 9602 devices to come, may be service costs. DeLorme mentions a $10 a month minimum but doesn't detail what that gets you or other possible gotcha's like charges to suspend and renew service. So what do you all think; could DeLorme become a player in the marine world with inReach?