Boat Monitor, anchor watch in the cloud
... written for Panbo by Ben Ellison and posted on Jun 2, 2011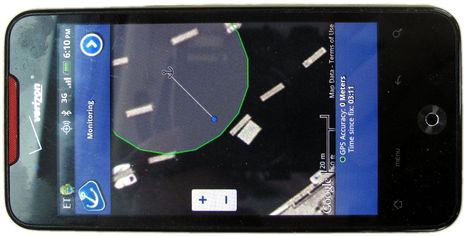 It's obviously not practical to anchor in Camden's Inner Harbor -- especially as there are often two Gizmo-size boats on each of those floats -- but it was a good first taste of Boat Monitor, a very interesting new remote anchor watch system. What's happening here is that I used Gizmo's low-power Datalux police car computer (seen in yesterday's entry, and also here) to log onto Boat Monitor's web site and establish a sophisticated anchor watch keyed to a Garmin 17x GPS connected via NMEA 2000. Boat Monitor's server then started minding Gizmo's position, ready to serve it elsewhere and/or send alarms as needed. One possibility is this $5 app on my Android phone, but there are others. The details and flexibility are impressive...
For instance, I could have monitored
Gizmo
from my home PC or a laptop, and the whole deal would have been free. Or -- and I tried this -- I could have set up the anchor watch on the phone itself, completely independent of the boat's GPS and Internet connection, and then left the phone on the boat so I could monitor it ashore with some other device. Almost needless to say, Boat Monitor has iOS apps in the works.
And check out the anchor watch details, which I've tried to illustrate in the collage below. You do have register at Boat Monitor and also install the
free client version of GPS Gate
to use a PC as the monitor source, but it's especially simple after that. (GPS Gate is elegant as usual, and now includes the ability to push GPS info to a browser while still serving it to other programs.) When you tell the Boat Monitor site that you want to establish an anchor watch it gives you a choice of using the current position or one based on heading and distance from your boat (1). As
we've discussed before
, you'll probably want to do the latter (2) to get a more accurate picture of where your boat lays relative to your hook. Then, just before you actually set the anchor alarm, Boat Monitor nicely starts averaging fixes (3), which you can either override or wait until it's satisfied. And finally you establish the radius from the anchor that matches your scope and comfort level (4). Then you're done, ready to head ashore and enjoy yourself knowing you'll get an SMS alarm if there's a problem or that you can get a "visual" if you have the app or a compatible browser with you.
Actually the SMS messages aren't working yet, and, in fact, Boat Monitor is still in Beta, but the ambitions are clear. For instance, developer Kevin Suggitt tells me that the ability to cut pie slices out of the alarm circle -- so you'll know if your boat swings radically to wind or tide, as illustrated in that earlier discussion -- is high on the feature road map. And the
Boat Monitor FAQ
mentions a coming bilge level alarm based on a relationship with
Sentram Solution's TextR system
(which I just heard about). This all reminds of what I imagine is possible with Garmin's new GDL 40 N2K cellular device, but of course that's just in my imagination at the moment. It seems like most anyone with the needed boat and shore connections will want to give Boat Monitor a look. It is still in Beta, and I did run into a glitch today -- quickly fixed by Kevin -- but I'm guessing a gang of Panbots can help squish the bugs in jig time ;-)