Garmin GDL 40, cellular weather & maybe much more
... written for Panbo by Ben Ellison and posted on May 17, 2011
Yes, the hardware kit looks just like a Garmin 17x GPS or GXM 51 Satellite Weather rig -- what with three different install options, under deck included, and an N2K cable and tee for power and data -- but in fact it's the company's brand new GDL 40 Cellular Marine Weather Receiver, just announced today and shipping in June. I think it will be an attractive new integrated weather option because the hardware is reasonable at $300 retail and you only pay for the weather data -- available to start along the coasts of the U.S., Canada or Europe -- when you use it. But when you think about what other services could be provided by a two-way GSM cellular modem networked to your boat's NMEA 2000 network and (Garmin) MFDs, I think you'll agree that this may be one of the most important product advances of the year...
Let's discuss Garmin's marine weather service first. Judging from the various screens seen below it looks a lot like the XM Satellite Weather that Garmin pioneered on handhelds and then on multifunction displays. But, in fact, the data is provided by a Garmin subsidiary called Digital Cyclone, which already produces all sorts of weather services for cell phones, plus app phones and pads.
Now I'm sure the first thought of many is "Why would I need a dedicated weather service if it only works within cell range where I can already use my iPad (or whatever) to access all sorts of weather for free?" That will no doubt be true for many cruisers (and, incidentally, I've been testing some neat iPad weather apps that I'll write about soon). But there are many boats on which the MFD is the biggest, brightest screen available...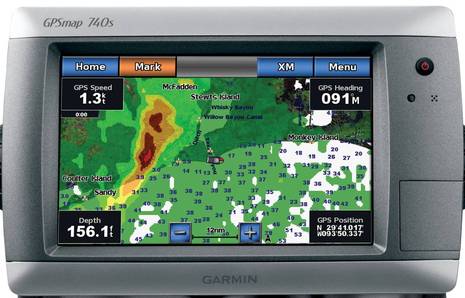 And besides Garmin has gotten quite good at showing weather on its MFDs. I tested the XM satellite service again last summer, on both a 7212 and a 740, and I was impressed by how the well they've evolved the controls for mixing and viewing the data. And of course when you're underway, especially with thunder storms around, the helm is where you want nearly live NEXRAD radar and lightning strike data. Actually, I think all the major MFDs can display XM or Sirius weather data pretty well these days, judging from various demos I've been on. The problem for a lot of people, myself included, is the cost and obligation...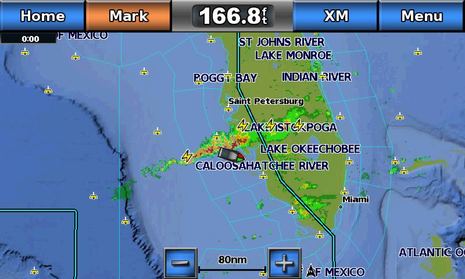 I don't know why satellite weather receivers all seem to be in the $600 to $900 range, but they are, and many involve a fair bit of installation. Especially compared to the GDL 40 with all those mount options and a dead simple N2K connection for data and power. (It's worth noting that you can plug an external cellular antenna into the bottom of the GDL for extended range, but it's purely optional.) And then there are the data subscriptions; for XM it's $50 a month to get what you really want, while Sirius inexplicably has two rates, $30 and $60, for full data packages. And "activation fees may apply" if you don't want to pay for weather data during months you're not using it!
Garmin has a very different approach. GDL 40 users will pay a $10 a year activation fee, which will involve registering a charge card on a Garmin site that will then be tapped $5 whenever you tell your Garmin MFD that you want a day of weather data. I understand that there may be different fees outside the U.S. and also additional charges if your cellular connection roams. I don't know the details yet but do know that you can turn off roaming to avoid surprises. I'm also pretty sure that Garmin's cellular partner is AT&T...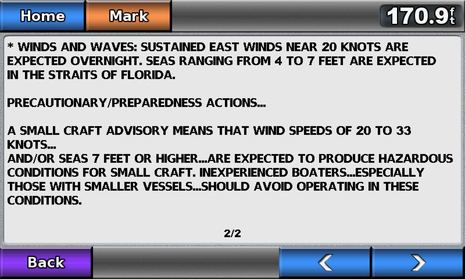 I think it's AT&T because that's what the coverage map indicates for Garmin's new GTU 10 GPS tracker. The tracker might actually be useful for marine assets like tenders, but I've been looking at it because it seems like the service it provides could be added to the GDL 40 very easily. It would take very little cellular bandwidth to let your friends and family see exactly where your boat is. Or to put a geofence around it when you're ashore. But, heck, since the GDL is on the N2K backbone couldn't it also send battery condition, refrigerator temperature, entry alarms...lots of stuff if you have the sensors? I think the answer is "Yes, easily!" and that there are all sorts of other ways the connection could be used. Garmin chart updating? Text messages on your Garmin MFD?
Garmin won't say what services might get added to the GDL 40, if any -- they're very careful that way -- but I believe that they consider it a big deal and I know they've been working it on for a long time. So let's help them do some market research about future possibilities. What services would you like to see served over GSM cellular to and from your boat's NMEA 2000 network?