Fusion MS_DA51600, freaking peaking 1,600 Watts
... written for Panbo by Ben Ellison and posted on May 11, 2011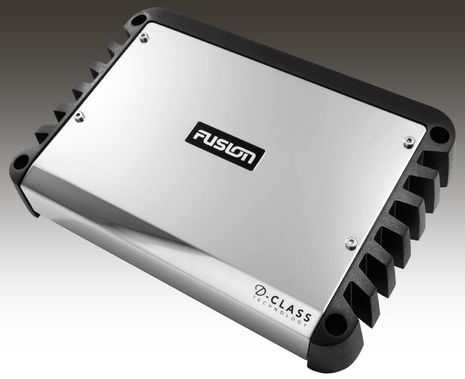 While Fusion's new MS_DA51600 marine audio amp is just being announced this week, a prototype was on display at the Miami Boat Show and I can tell you that the industrial design is even more striking in its cast aluminium and high-polish stainless flesh. But perhaps its real claim to fame is its ability to pump out 4 channels at 80 Watts RMS, plus 250 of sub woofer -- and a freaking peak of 1,600 -- all via Class D technology that purportedly requires less amps and causes less heat. Who needs that kind of power?...
Well, many boats tend to be noisy environments, and some especially so. I'm thinking particularly of my long 50 knot+ ride with Garmin fishing pro WFO Pratt off Galveston last year. It took a lot of speakers and Watts to cleanly blast Pratt's favorite XM outlaw country channel over three cranking Yamaha 350-hp 4-strokes, the inevitable boat rattles, and apparent gale-force winds. Like many high-end center consoles, Pratt's Contender sported a serious system of Clarion -- which recently added Fusion-style iThing support -- and JBL audio gear. But Fusion is getting a piece of that market (and several others, smaller quieter boats included), and it looks like they're going for more. The new amp comes with a nice remote level control, for instance, which doesn't have to be installed but might be quite handy somewhere onboard...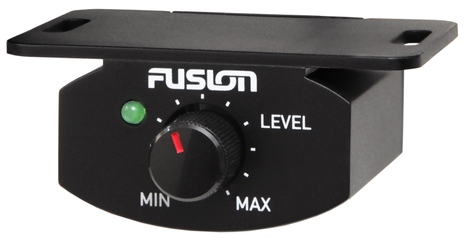 And it seems loaded with connectivity and sonic control. The MS-DA51600 -- which has a MAP of $400 -- is not online at Fusion Marine Audio yet, but you can find what's probably a very similar manual on the page of its CA-DA511600 sibling. Plus I bugged Fusion for a high res shot of the amp's interior connectors and controls. That's because with enough resolution you can read all the little labels, and also because well-photographed and well-executed industrial design like this borders on geek porn. Click on the thumbnail photo below to enjoy the full money shot!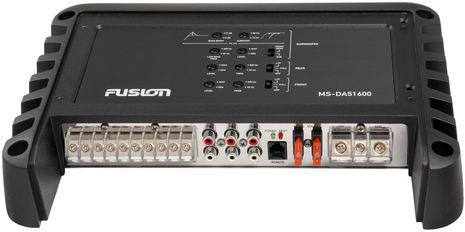 PS: I'm pleased to note that Poly-Planar recently
came out with the MRD80i
, a purpose-built marine stereo with a unique internal dock designed to support not just iThings but other MP3 players and smartphones. There's one sitting in the lab, and I'll have a review soon.