EmpireBus NXT distributed power, gone NMEA 2000 & beyond
... written for Panbo by Ben Ellison and posted on May 4, 2011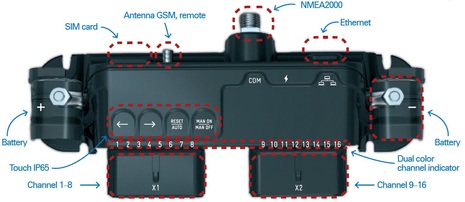 I keep hearing good things about EmpireBus NXT, the second generation distributed power and control system developed by the Swedish firm Trigentic AB, and I'm beginning to understand why. It must have been a hard decision to completely redesign the original CLC system for such a tentative, low-volume niche market, but I'm sure I'm not the only one who appreciates the change from proprietary CANbus to NMEA 2000 for primary data communications. And, holy cow, look at all the other I/O they added. Aside from switches on the N2K bus, that 16-channel DC Module can be controlled with a 2-way wireless fob, or via Ethernet/Internet, or via a GSM cellular phone...even via an iPhone app purportedly...
I was reminded of EmpireBus yesterday when Gary Pacey of Australian distributor Outback Marine sent me a press release about its install (views below) on the first Argus E35 power cat. Apparently Pacey also runs Argus and he sounds quite excited about debuting the boat loaded with Outback's cutting edge systems portfolio at the Sanctuary Cove Boat Show later this month. He says he's also willing to write up a detailed report on how EmpireBus NXT installs and works for Panbo...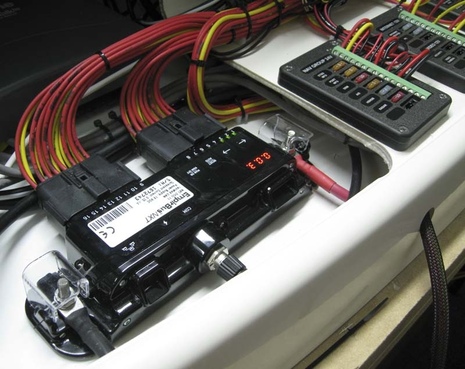 I like that idea as these distributed power systems are a new world most of us know very little about, and Pacey seems willing to reveal the problems as well as the benefits. For instance, he's put up a short but humorous YouTube video showing how the fancy wiper controls built into EmpireBus NXT misfired during the first sea trial (apparently they're working fine now). That's just one of many features -- like the mode switches below, which beat the heck out of trying to remember which circuits you want on when underway, etc. -- that you can read about on Trigentic's NXT pages. And it seems like they've just gotten started given all the ways the system can be accessed. Pretty intriquing, don't you think?