Chetco Digital engine monitoring, Bob E reports
... written for Panbo by Ben Ellison and posted on May 5, 2011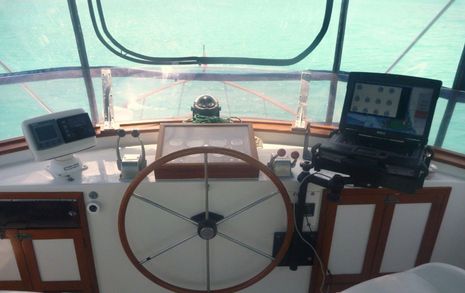 That's a recent picture of Bob and Elaine Ebaugh's Defever 44, Mar Azul, and I'm jealous on two counts. The obvious one is that beautiful clear-blue-sea-over-white-sand experience they're enjoying in the Bahamas (where I've not been in some time). The other is that virtual engine gauge panel seen on the laptop, which is giving the Ebaugh's a better sense of what their relatively old diesels are up to than many of us power cruisers ever have the comfort of. You may recall that Bob already did some cutting edge work with Ethernet and NMEA 0183 conversion which he wrote up for Panbo last year. Well, he's done it again, thoroughly describing what it took to adapt a Chetco Digital engine monitoring system to his boat, and how it's working...
Chetco Digital produces a line of SeaGauge instrumentation products used to monitor (and control) just about anything you have onboard. I've installed a Chetco system on Mar Azul, our DeFever 44, to enhance our ability underway to monitor what's going on with our twin Lehman engines. The existing analog gauges work OK, but definitely lack precision. The basic circa 1985 engine alarm system works on preset water temp and low oil pressure switches. By the time they alarm, very bad things may have already occurred.
With the Chetco system, I was able to use the existing senders for oil pressure, fresh water temperature and tachometer. I added senders to monitor the temperature of our exhaust elbow and transmission oil temperature. The exhaust elbow is sensitive to raw water flow, and I believe will be a good leading indicator of a cooling system problem. Mar Azul has Borg Warner CR2 gears that are famous for coming apart at about 4000 hours. Especially the starboard counter rotating gear. A mechanic, who knows more than I do, told me transmission oil temperature would be a good indicator comparing port to starboard. When one gear starts running significantly warmer, problems lie ahead.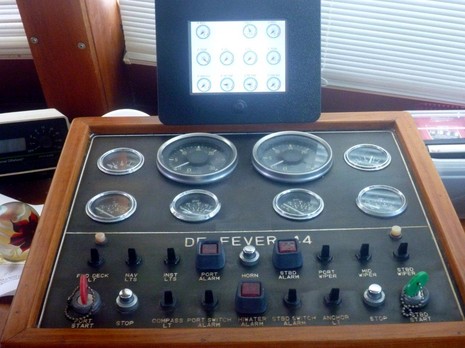 I installed 3 different Chetco hardware components and software on my navigation laptops to implement the system. First, the SeaGaugeRemote interface box that ties to all the senders, a v-GaugeDisplay touch screen panel that graphically shows all the sender values with a built-in programmable alarm and a Chetco Ethernet interface to place the data on my onboard network. The navigation laptop has Vdash installed to display the same screens on the fly bridge laptop and alarms through the laptops speakers. Vdash is also the programming and configuration tool for the entire system.
Installing the SeaGaugeRemote was simplified by an existing junction panel under the lower helm station where I tapped into the existing senders. I had a couple of spare wires to each engine, so I used the existing harness to feed the new transmission and elbow temperature sender information. Chetco prefers to drive senders independent of your existing instrumentation since they provide a regulated voltage source for more accurate readings.
However, Chetco can use the voltages off the existing sending units. I captured some operating high/mid/low voltage values from my existing VDO instrumentation and Chetco built a custom calibration table to download to the V-Remote. We found a 7 degree difference in the fresh water temperature readings based on the state of charge in the house bank. On startup, at about 50 percent battery charge, there is about 12.6 volts underway. Fully charged we see about 13.5 volts. Only a couple PSI difference in oil pressure. There is no variation on the other inputs since the source is voltage regulated.
I used a VDO sender for the transmission temperature input. Chetco has pre-built calibration tables for most every VDO sender. I struggled to figure out the best way to monitor raw water flow and temperature. We ended up using a simple LM34 integrated circuit. Give it 5 to 30 Volts in, and it gives you 0-2.5 Volts out as a linear temperature sender. Attached it to a heat sink and hose clamped it to the exhaust elbow. As you can see from the picture, it's a little fragile. I replaced a failed one since a lead broke off the integrated circuit after about 50 hours operating time. The other has lasted about 100 hours and no problem with the replacement yet. But at $3 each, I can replace them occasionally.
The vGaugeDisplay touch screen is at the lower helm station and interfaces via a serial cable to the SeaGaugeRemote. To program the system, you use the vDash program on a PC connected using USB to a second port on the v-GaugeRemote. During normal operation vDash shows the exact same screens as the touch panel. It also alarms at the same values. The only difference I've noted is that the touch panel will flash the specific sensor in an alarm condition. Vdash only alarms and you have to look to see which condition is causing the alarm. During normal operation, vDash can create a log file of all the monitored values for analysis using Excel.
To attach the Chetco Ethernet Interface, you remove the USB interface and flip a switch inside the SeaGaugeRemote to change the interface to serial. vDash now works anywhere over Ethernet. But it won't flash program changes. I think Chetco is working on the ability to program via the Ethernet interface making minor program adjustments far easier. There is a web server interface built into the firmware of the Ethernet interface. You use this to program the TCP/IP configuration and can also access instrumentation values. Programming IP configuration is easy, but the HTML interface to instrumentation values is very basic. It can be customized if you wish to write HTML code.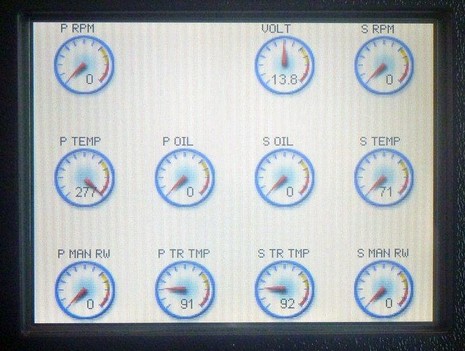 Of significant interest perhaps for many readers, but not something I can address since I did not implement it, is the NMEA 2000 capabilities of the system (discussed on Panbo here). You can interface NMEA 2000 data sources and display them on touch panels or access them on the Ethernet network. There is also a SeaSwitch module that attaches to the SeaGaugeRemote to use the touch panel displays or PC to switch on or off anything from bilge pumps to nav lights. I think one neat use would be to start and stop a generator. So there are many potential applications for this hardware, engine monitoring only really scratches the surface of the possibilities.
This is not an out-of-the-box solution to anything. It requires customization to meet your specific requirements. The programming interface is crude, but effective. Engineering types will love it. Less technically minded end users will want to hire a geek to install it. It needs an "end user" application where small things like alarm values can be changed without access to changing the base configuration.
During the course of the installation, I received great support from Joe Burke at Chetco. I had a failure of the 5 volt power supply integrated in the v-GaugeRemote that powers the Ethernet interface. Joe had a replacement board in the mail the same day. The custom calibration tables needed for my existing VDO senders was created and emailed in a couple of hours.
We've traveled from St. Petersburg to Staniel Cay in the Bahamas over the last month, about 100 hours of operation and are satisfied with the application. On longer passages, it's great to know that if an engine parameter starts to vary, the monitoring system will let us know without having to watch the gauges constantly. Who does that at 1am anyway? The elbow/raw water sender alarmed one time, but by the time I got to the engine room, the elbow was cooling down and quickly resumed normal temperature. I think a chunk of seaweed got caught in the thru-hull, but eventually got sucked into the strainer where it should be. We've had this problem before, where it did not clear itself, which was one of the primary reasons we installed this system.
I will be happy to answer any questions I can that pop-up here related to my installation. We are presently traveling from the Central Bahamas to Puerto Rico, so sometimes it is a day or two between internet connection opportunities, so please be patient. -- Bob Ebaugh