AIS SART plotting, & NMEA 2000 AIS problems
... written for Panbo by Ben Ellison and posted on May 10, 2011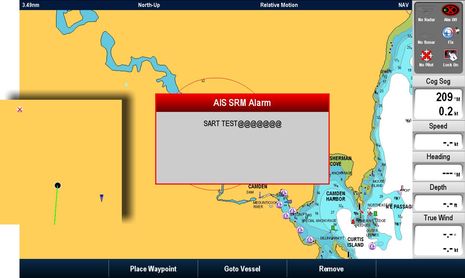 A gold star to Raymarine for the E140W's response to an AIS SART test! This seems like exactly the proper plotting behavior described by the USCG AIS expert Jorge Arroyo in a comment to the entry about the easyRescue SART tested. Not only did the E Wide put up an alarm noting the SART TEST message but it also plotted the SART's location with the correct distinctive icon (see inset above). And, as a bonus, it's giving the operator quick soft key or touch shortcuts to setting up a go-to-SART route or dismiss the alarm. But so far the E140W is the only MFD that's so SART friendly and it wasn't until I updated its software this weekend...
In fact, until
software release v2.49
, the E140W wasn't doing AIS well at all, at least via NMEA 2000. I have it on a backbone with a
Garmin AIS 600
, and while it would see AIS targets, they used to disappear intermittently but regularly. Mind you that both the E140W and AIS 600 are NMEA 2000 certified products, and guess what? Even after the software upgrade, the E140W is still not seeing Class B static data (vessel name, dimensions, type, etc.) being sent by the AIS 600. That regular AIS icon on the inset above is the lab's Class B transponder and that's also a Class B on the
mighty Fife ketch Sumurun
(which is prepping for
the NYYC's Transatlantic Race
at Wayfarer Marine). The Class B targets plot fine, but no matter how long I leave the system on the vessel names never show up.
And the plot thickens. The Garmin 7212 and 740 displays in the lab show all the standard Class B (and A) data fine, but they only show AIS SARTs as a regular target and don't seem to show any AIS messages, despite the fact that they too were updated in the last few days (tis the season). While the Lowrance HDS and Simrad NSE do show the SART ACTIVE and SART TEST messages,
as illustrated the other day
, they too seem unable to decipher the Class B static data PGN coming from the AIS 600. Damn it! I understand that it will take a while for the coders to catch up with the new SART messages, and I understood how early NMEA 2000 AIS got a little screwed up because NMEA was slow to write a standard PGN for Class B Static Data. But we were
talking about that almost two years ago
!
Frankly, I'm not sure that either the Simrad AI-50 or the Raymarine AIS 300 have yet been updated to output those standard Static Data PGNs -- there are actually 2 Class B Static Data messages, A and B -- and it seems like their makers' MFDs can't read them yet anyway. (But remember that both early N2K transponders included proprietary ways to pass static data to their own plotters, because the standard PGN wasn't available). Or could it be that the AIS 600 is sending improper Class B Static Data PGNs? Well, here's some evidence that they're fine, and also that one of my favorite tools may be a little flawed in this regard...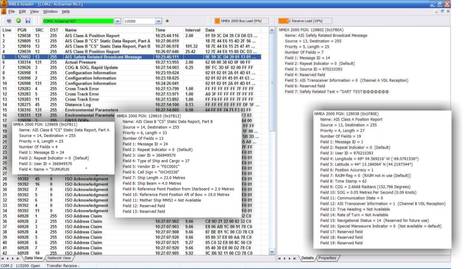 Above is an
Actisense NMEAReader
screen showing details of four different AIS PGNs coming from the Garmin AIS 600. On the left are the two
Sumurun
Static Data messages that the E140W, NSE12, and HDS10 all fail to read, and on the right are the easyRescue's Class A Position Report, at least plotted by all, and its AIS Safety Related Broadcast Message, displayed by some. I know I've gotten way geeky here, but this is a terrific tool for trouble shooting N2K (and 0183) issues like I'm discussing. However, we must realize that those PGN translations are written in by the software developer and are also subject to "issues."
For instance, check out what the wonderful
Maretron N2KAnalyzer
has to say about the same data. It translations the SART PGNs very similarly, but note how the two Class B Static Data PGNS -- 129809 and 129810 -- are simply marked "Unknown." Doh! I think this is just an omission on Maretron's part, as those numbers check out in
NMEA's PGN database
, but I'm not sure of anything anymore. I really like both NMEA 2000 and AIS, and they should work beautifully together...but so far the relationship is messy.