Simrad NSS, hand's on #1
... written for Panbo by Ben Ellison and posted on Apr 5, 2011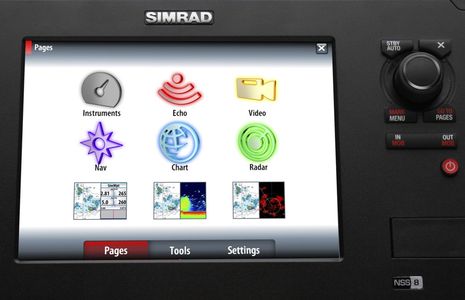 I've already written about the debut of Simrad NSS "touch sensible" MFDs, as well as some of what I learned about Navico in Spain, and today I'll discuss some of what I saw during the on-water demos. I was especially curious as to how the NSS replaces the NSE's super fast direct access keys. Actually, I don't think it's possible to swap screens faster, or easier, than those NSE dedicated Chart, Echo, Radar, etc. buttons, which get you last-layout-used with a quick press and a list of available layouts with long press. But the NSS comes fairly close...
So you get to that Pages screen above with a press on the Pages button over on the right. Then you have one touch access to the three custom screens represented by the bottom icons, or you can double tap on one of the six function icons like Chart to get a full Chart screen. But one tap on the Chart icon will take you to the Chart Pages screen below, where you can set up eight custom screens, if you want. A video would work better, but suffice it to say that you have nine screens available with two commands, and whole bunch more with three. And editing a custom screen is slick, as that inset graphic suggests. All available functions are shown on the left so you can drag and rearrange them on a draft custom screen to the right...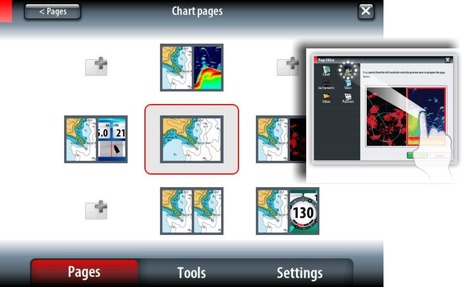 NSS also lets you swipe between these Pages, Tools, and Settings screens, which I think is a first for marine touch displays. There's also an unusual long tap available on many data screens like charts and radar that gets you a context menu, and it has a visual cue -- a little throbbing ring -- to let you know you've held your finger down long enough. I got a particular kick out of the "Tools" screen below because it's similar to an NSE screen of button-like icons that I always want to touch (though a spin and press of the knob works fine, as is also true on the NSS)...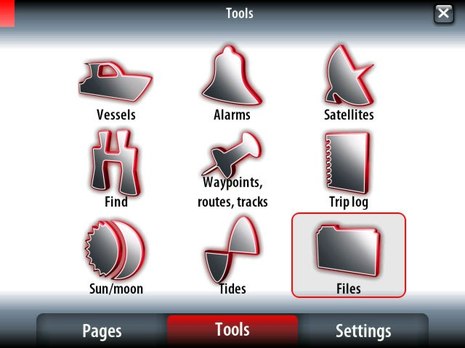 Below is a split screen showing Navionics Platinum+ charts doing both 2D relief and 3D with photo overlay. On the NSS you can not adjust the relative sizes of those windows, a feature I use a lot when setting up NSE screens, but note the touch control on the right that lets you switch 3D modes as you manipulate the screen with your finger...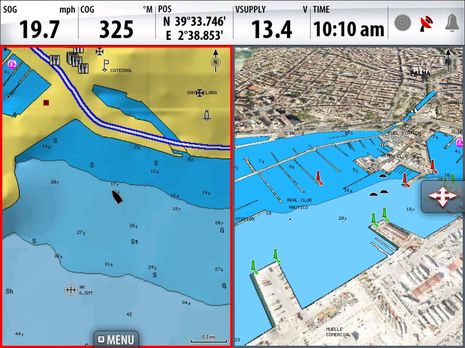 And below is a screen showing NSS Marpa in action, always a nice function to do with touch (as long as it's not too bouncy). You could also do some neat things with the long tap menu and your finger in terms of EBL and VRM lines on the radar screens. And note the useful breadcrumb trails and also how your own vessel icon is showing both COG and Heading vectors, an option that's coming to the non touch models with an NS3.0 update, I believe. Marpa was only working on a couple of the demo units, and it had to "finish acquiring" a target before you could select another, but I'm assuming that will be fixed.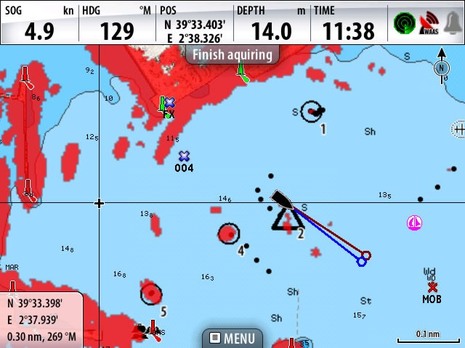 Ah, and below is a chance to see all the AIS equipped vessels in Palma -- including
the Etta Fjord and Guilio Verne
bow to stern toward the bottom -- and offer my two cents about how such a clutter might be displayed better. Wouldn't it be nice if the sleeping targets, like all those doing near zero knots, were scaled down to very small triangles or even big dots, so that more active targets would stand out?
Garmin's already made some progress
in that direction, though I think all the MFD developers need to work on AIS display and alarming.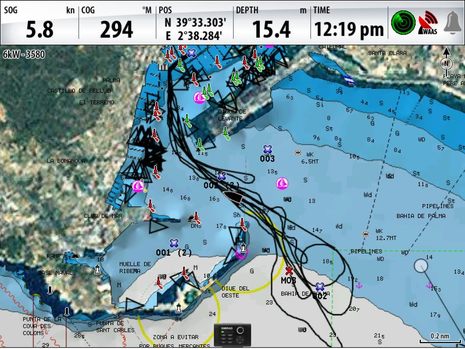 One first impression the NSS left me with was how different it seemed to be from Garmin's touch screen approach. Now this is beta software, and Simrad will be tweaking it even after NSS ships in May, but it seems like they put more emphasis on touchifying the full feature set of the NSE than the sort of disciplined (and sometimes annoying) simplicity that Garmin goes for. It's hard to imagine, for instance, Garmin putting up a touch screen method for setting its autopilot. I'm not saying one approach is better or worse, but they do seem different. And I'm hoping to try them side by side this summer.