Simrad NSS series, touch sensible?
... written for Panbo by Ben Ellison and posted on Mar 23, 2011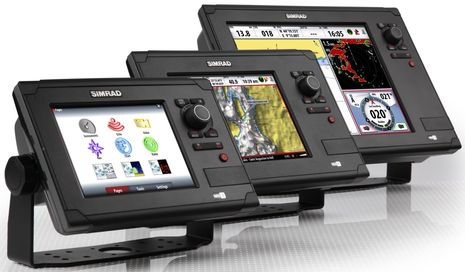 Say hello to Simrad's new NSS Sport series of multifunction displays -- the NSS7, NSS8, and NSS12 -- which are making their global debut today. They seem to have all the capabilities of the NSE series (which they can network with) plus a built-in GPS and, in the case of 7- and 8-inch sizes, a built-in Broadband fishfinder as well, along with quite competitive price tags (suggested retail prices of $1,895, $2,845 and $3,995 respectively). But the key feature is an LED backlit touch screen that is nearly as bright (1200 nits) as the NSE's (1500), and which Simrad has used to create a combination knob, button, and touch interface it's calling "Touch Sensible"...
The combination of touch screen and dedicated controls was arguably invented by Simrad sibling Northstar in the 8000i series, but since that product never took off, most people associate the concept with Raymarine's "hybridTouch", which I first tried in late 2009. I've been testing that E-140 Wide ever since, and though I'm still waiting for a software update to make minor improvements, there's no doubt in my mind that a combination interface makes a lot of sense. Some things you want to do on an MFD are easier and quicker via touch, while others are better done by knob or button, simple as that. I haven't yet had my hands on Simrad's combo interface, or even seen it in the flesh, but I sure am excited that all that will happen later today here in Palma, Spain. My sense -- based on lots of time with an NSE and images like this NSS7 home screen below --is that "Touch Sensible" will be a winner...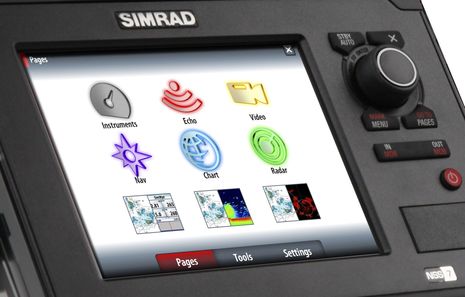 Besides the sexy icons, I also notice that Simrad has kept the dedicated controls to six buttons and the knob, and I suspect that will help with another positive aspect of touch interfaces: They don't seem to intimidate new users. Of course they're still not as clean as Garmin's 5- and 7000 MFDs, and they also don't have the space-saving advantage of a really minimal casing size, especially in the 12-inch size seen below...
But notice on those Broadband Sonar and StructureScan windows how many ways you can use the knob to quickly adjust settings, without a big and somewhat awkward on-screen slider. (Notice too how different sonar and StructureScan imagery is, especially when you drive dead perfectly stern to stem over a wreck.) Which is not is not to say that Garmin, which certainly pioneered marine touch screens, necessarily needs to add some knobs and/or buttons. Remember that you can network a Garmin MFD with buttons right alongside a pure touch model, and that Garmin also offers a wireless remote and mouse that extend pure touch nicely.
Simrad's new NSS series will also network with all button and knob models, including the NSO blackbox series, which is illustrated in the final image. And a great thing about the two days of demos about to commence is that they've rigged some ten different boats with a wide variety of systems. The interface devil is largely in the details, and it seems like I'll get to see NSS in several settings. Reports to come, of course, and don't be overly jealous of my job today; one breakfast quip was "The rain in Spain stays mainly on the plain, but sometimes falls on Majorca" ;-)