MIBS # 5: C-Map, EarthNC, & MapMedia news
... written for Panbo by Ben Ellison and posted on Mar 7, 2011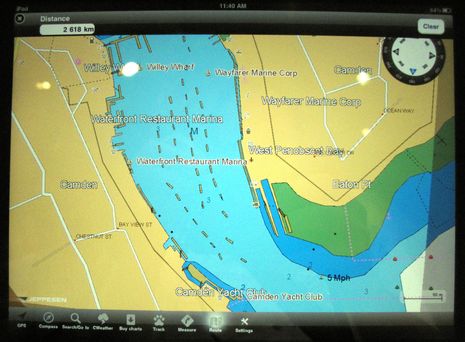 It's a lousy photo, for sure, but Jeppesen C-Map has not yet announced its iPad charting app, let alone released screen shots, though I found it one of the nicest surprises of the Miami show. It seems that C-Map not only intends to match Navionics' much appreciated efforts to offer inexpensive but detailed marine cartography on multiple apps platforms, but to do it even better. Note, for instance, the "CWeather" button on the menu bar above, and that C-Map has been working to overlay weather data on plotters since at least 2004 (though the then available mechanisms -- a complicated cellular connection, or a data card transfer -- were awkward). I'm not sure what CWeather offers today (the Jeppesen site says only European data), but we do know that a connected tablet or phone can make the download process very easy.
However, as the lousy photo shows, I was able to verify that the new C-Map app will include the sort of detailed C-Marina data
I recently raved about
. I also met the apps product manager and was impressed by his intentions to support mulitple platforms, open standard route and track formats, and more. He also told me that the iPhone/iPad version -- which will be a free app that includes an excellent base map with reasonably-priced full-detail regions available for in-app purchase -- is very near to release. Bring it on!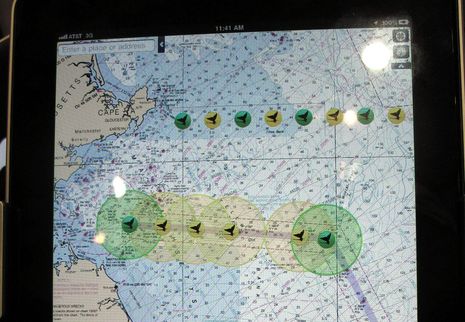 A company that's long been adventurous with data overlays is
EarthNC
, whose iThing and Android charting/POI/weather app (developed in partnership with
TrailBehind
) was
discussed here last August
. The app has continued to evolve nicely, looks great on an iPad, and check what they've got in the works above. Those icons in the main Boston shipping lane represent near real time data sent from
a series of acoustic listening buoys
meant to protect the remaining 350 North American right whales. It may be a unique situation, but isn't this a great example of a simple, connected app helping a bridge team (and maybe whale watchers too)?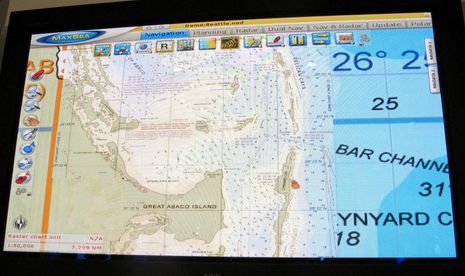 Another map-related pre-announcement -- which is to say that this news too is not yet formal or online as best I can Google -- is MapMedia's new support for
Explorer raster charts of the Bahamas
. Which means that NavNet 3d, MaxSea, and
now Nobeltec Trident
users will have at least three choices for Bahamas charts (and may choose more than one given the
varied coverage we've seen
).
Which brings up another use for the proliferating chart apps. After Nobeltec demonstrated the
wide choice of MapMedia charts
in Miami, one writer asked how someone about to cruise, say, eastern South America could figure out ahead of time which chart database had the best coverage. That's hard as the various online chart catalogs either aren't very detailed or are difficult to navigate. However, once C-Map joins Navionics and Transas in offering all their chart regions in relatively cheap apps form, won't that be the slick way check out coverage areas, with benefits? And won't Garmin, Navico, and other chart suppliers start feeling an obligation to make their cartography available for accessory navigation?