MIBS #3: Fugawi, Rose Point, MapTech, & Nobeltec Trident
... written for Panbo by Ben Ellison and posted on Mar 1, 2011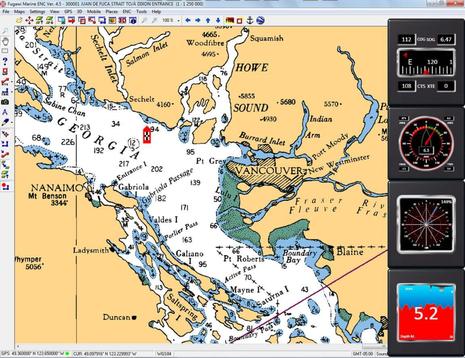 I sense that PC-based navigation is about to enjoy a renaissance after a long period during which rapidly-advancing MFDs stole its thunder. I can think of several reasons (and you may have more): Decent performance PCs have gotten less expensive and tougher; NMEA 2000 can feed them more data, more easily (thanks in large part to Actisense); the various mobile platforms so many of us want to fool with on board usually relate well to the less mobile platforms that can also work well on many boats; and, finally, MaxSea and Furuno are showing everyone how powerfully a PC can fit into high-end marine electronics systems. One company that will participate in this renaissance, I'm pretty sure, is Fugawi...
While I find the interface to Fugawi's flagship
Marine ENC charting program
rather clunky, I'm told that's going to change, and there's no denying the modern power (and high value) behind the antiquated interface. In fact, it seems that Fugawi has devoted a lot of its resources in recent years to innovations like
X-Traverse
and partnership projects like
Navionics NavPlanner2
. Apparently its development team was also doing lots of contract work outside the boating world -- a strategy many smaller marine electronics companies have gone with during the hard times -- but that's changing too.
Longtime Fugawi President (and sharp guy) Robin Martel
recently became its owner
, and he's focused on taking the marine product line to the next level. As seen above, for instance, Fugawi ENC recently got integration with
Avia Motor and Sail
instrumentation software (
discussed here
in its infancy), which Fugawi also distributes as a standalone product along with compatible Actisense hardware. But the really tantalizing news that Robin shared is that Fugawi is involved in two significant partnership projects with major marine hardware companies and that while the direct results will be interesting, the deals also mean that future Fugawi products will benefit from the developement work. That's all I know, but it sounds interesting!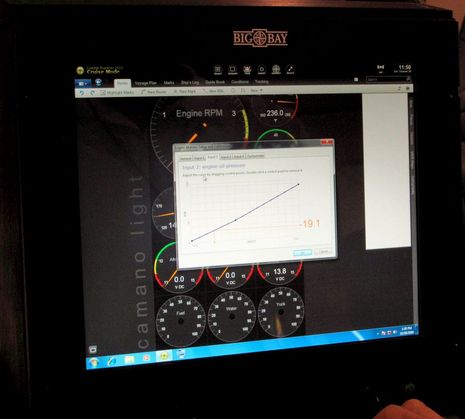 I got similarly teased in the Rose Point Navigation booth with some preliminary talk about the integration of Coastal Explorer with a major MFD system, but, sorry, that's all I'm going to say for fear of disappointment. What's real is
CE2011
and what's nearly real are the N2K Gateway, black box fishfinder, and the analog-to-N2K engine data converter
announced last October
(and partially previewed to me
during the NMEA Conference
). I was told that ten vessels are now testing the engine interface, a circuit board rev was just run, and twenty more boats are about to join the beta fleet. I don't know what the pricing is going to be, but the guage and calibration screens I've seen suggest that Rose Point is going to give
Alba
,
Noland
,
Chetco
, and
Maretron
some real competition in this difficult but critical area (written by a man who has a semi-analog diesel he'd love to monitor via NMEA 2000).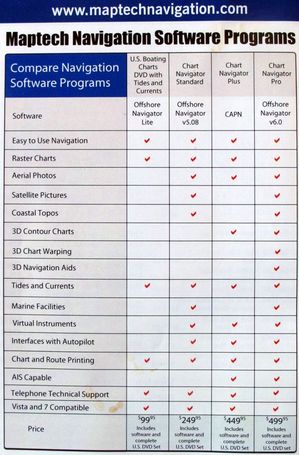 I also heard good news in the Maptech Navigation booth. The company has updated all four of its nav software bundles and all the data included, which in some cases involves nineteen DVDs (19!). I also saw a brief demo of the Offshore Navigator 6.0 software that finally replaces the version of CE that was in the
original Chart Navigator Pro (CNP) package
, and can at least tell you it does pretty interesting 3D imaging. While complete 2011 info isn't on
the Maptech Navigation site
yet -- which is my excuse for the coffee-splattered, though informative brochure image above -- hopefully it will soon reveal more about all the upgrades and especially ON 6.0.
And, finally, there was the private room debut of Nobeltec Trident, which frankly felt a bit like a roller coaster ride. I had been briefed on the general idea beforehand, and was expecting to see a new version of MaxSea TimeZero designed to appeal to existing Nobeltec users, though not to replace
the VNS and Admiral 11 products
that came out recently (and are
looking good
in my lab). But, aside from some icon and color changes, I think what I saw IS MaxSea TimeZero, the
Explorer version
actually, only now with the ability to integrate with both Furuno and Nobeltec hardware (for extra fees). Compare the Trident description and screen shots
OceanLines kindly put up
with
the MaxSea TZ site
and see for yourself.
But here's the mood swing part: As the demo proceeded I was strongly reminded about how good TimeZero charting software is, and
I've actually used it
! (Though perhaps not on the ideal PC.) So if marketing TZ under a new, yet familiar brand helps raise awareness of what the MaxSea team created, that's a good thing. And, besides, I understand that going forward the Nobeltec team will get to add further customization to the TZ core, and thus MS TZ and Trident will slowly grow apart. But when I get around to putting up some neat Time Zero screens I took on
Gizmo
last fall -- which I've tardy about -- they'll illustrate two software packages at once, at least for a while.