Edda Fjord, what a workboat
... written for Panbo by Ben Ellison and posted on Mar 29, 2011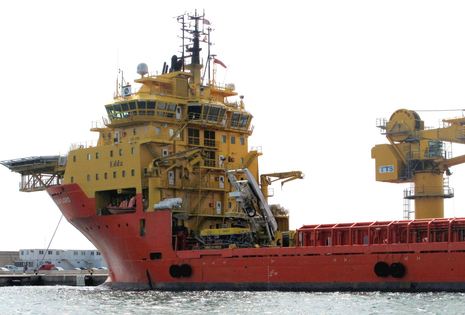 When we weren't learning about Navico and NSS, Palma Harbor offered sights aplenty. Like the 133m (437') superyacht Al Mirqab, owned by an emir who purportedly rarely visits her. I'd love to hang around her bridge myself, but not nearly as much as that full-beam, glass-all-round beauty on the mighty Edda Fjord. I'd spotted her in Palma from my desk in Maine, thanks to Marine Traffic, and cajoled the Simrad demo boat to head over to the heavy duty end of the harbor for a look see. She's called a Multipurpose Platform Supply Vessel, or MPSV, and I have a strong affinity for the type because I got some of my first solid sea time on toddler-size supply boats (about 140-feet) in the early 70's, way off New Orleans. But whereas a lot of Edda's alluring details are available, you too might get intriqued...
It seems obvious from the montage below that Edda was built to high standards, which is why I wonder if
all the materials available for download at her home page
aren't as much about owner pride as lining up charters. You'll find deck plans, specifications, photos, videos, the works. Note that there are four complete helm stations up there on the plank-floored sky bridge, and they're controlling some 14,500 kW of diesel electric propulsion, much of it in thrusters. There's also a dynamic positioning system built by Simrad's former owner
Kongsberg Maritime
and oodles of radars and other gear from Furuno's IMO selection. Not to mention a remote system for monitoring Edda's many tanks and pumps, all sorts of cranes and winches, etc.
Soon you'll realize how modular the vessel is, and how many tasks she can perform even beyond the complexities of offshore oil drilling. For instance, I have no idea what that white apparatus mounted in Palma does, though it does seem to involve the "moonpool". Nor do I know why she's even laying in Palma, though someone suggested "waiting to repair oil loading facilities in Libya". Strange days these are, but at least we know how to put together some remarkable vessels, for work or pleasure.