PolarView, ready for prime time?
... written for Panbo by Ben Ellison and posted on Feb 10, 2011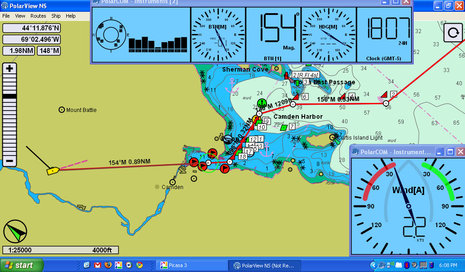 I took a peek at PolarView NS charting software about a year ago, but didn't write about it because I wasn't especially impressed (and there's a certain randomness to what I cover anyway). But times change and software develops, and I'm here to tell you that PolarView 1.5 (video introduction here) is pretty darn impressive. Given its app-like $40 price tag, it's a remarkably powerful program that runs on Windows, Mac OS X, and Linux operating systems. The screen above shows PV running on my little ASUS Eee PC 1000HE 10-Inch netbook
with live NMEA 0183 data coming from the lab's N2K network via a Maretron USB 100. PolarView is quite unusual in that it uses a sister program, called PolarCOM, to do all its data interfacing and instrument displays...
Having those instrument windows as a separate program is a little awkward, I think, but then again you get lots of control as to how you size and configure them. Plus PolarCOM -- which can be used on its own, and is entirely free -- automatically found the NMEA 0183 feed, and apparently can even multiplex it, and also seems to have well designed alarming functions. In fact, it took maybe 15 minutes for me to get PV fully running on the netbook, largely because it also has a fast, easy facility for downloading ENC vector charts for a desired geographic area.
I've corresponded a little with PolarView's developer, who I know only as Gene, and know that he favors vector charts over raster. And PV does quite a nice job of displaying them, as you can see in the screen below, taken on my high res desktop machine. I particularly like how you can open that Information box and leave it open as you click on ENC objects like that EG bouy. I'm not sure I've ever seen ENC info so clearly presented. Note too how this display has been set up without Windows menus or PV's own on-screen Zoom and Tool menus (there are numerous keyboard shortcuts). And check out the ActiveCaptain icons including a clicked Buck's Harbor Marine label toward the top of the screen; yes, indeed, a major feature of PolarView 1.5 is AC caching, display, and review editing, as trumpeted in yesterday's AC newsletter. (Panbo readers are also invited to try a 30-day free preview of the PV 1.5 before it goes public next week; just go to this page and use the invite code "PreviewPanbo".)
Something else of interest regarding this screen is that I went to this area because it used to glaringly demonstrate the fact that not all U.S. charts have yet been converted to the ENC format. But, low and behold, NOAA has recently created the ENC equivalent of paper/raster #13309, and in fact a quick check suggests that there aren't any significant holes in ENC coverage of Maine anymore. Progress! But note that PolarView also does a good job of quilting and displaying raster charts, and look what I found when testing them...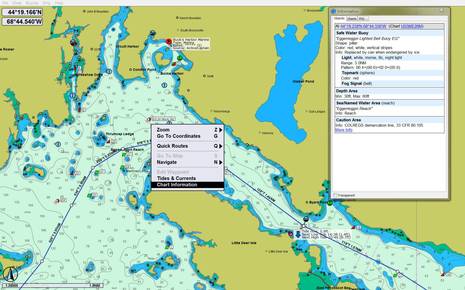 Yes, friends, even though NOAA said that the infamous Jonesport breakwater probably wouldn't get charted for "a couple of years," paper/RNC chart #13326 was updated with the breakwater in early January, as was the equivalent ENC (US5ME52M). Note how nicely PolarView shows cached ActiveCaptain detail in that same Information box, and note too that bit of satellite photo imagery. We've seen something like that done before, and found it a sensitive subject, so I'll just note that PV's image management/download facility is quite interesting, and definitely another reason some of you may want to try the 1.5 preview (and hopefully report back here on your findings)...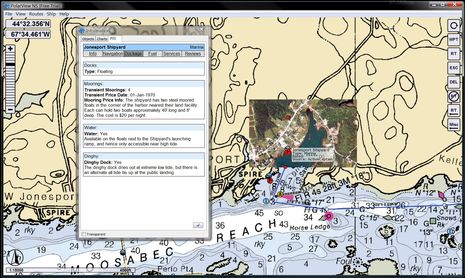 Not that PolarView is real competition for the big charting software packages from the likes of Nobeltec, Rose Point, or MaxSea. It can't, for instance, split a display into multiple chart windows, which is why I'm using Coastal Explorer 2011 to offer further suggestions about Sawyer Cove charting (and maybe gloat a bit). While you can see from the satellite photos that the new raster chart seems to have the breakwater just right, the new ENC missed the eastern opening that some local boats use. And neither chart has yet caught up with the dredging that allowed Gizmo, with 4-feet plus of draft, to sit comfortably on that Jonesport Shipyard mooring float for several days last summer (while I yakked about cruising guides). But progress has been made, and it just may be that this obstreperous scribbler helped it along ;-)