NV Charts: vector/raster paper & digital, US too
... written for Panbo by Ben Ellison and posted on Feb 25, 2011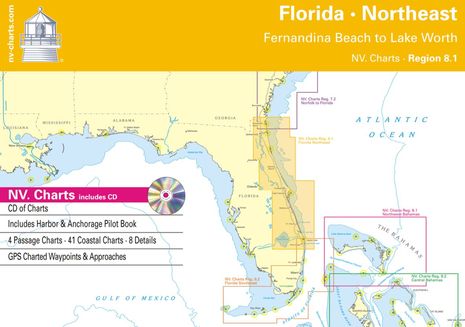 I've known of NV Charts for years as a German supplier of cartography for Europe and the Caribbean, but I'd never met founders Cornelia and Hasko Scheidt until this Miami show, and I had no idea that they were expanding into the U.S. with a very interesting model. The Scheidts -- whose perhaps-telling business-card titles are Art Director and Hydrographer -- are creating custom paper charts based on NOAA vector data with their own survey work added, which they also produce in multiple digital forms, though they'd rather you didn't use those without the paper versions on board...
As Hasko puts it, you can get free digitals with the chart booklets, or a free booklet with the digitals, your choice! For example, the $80 16- by 24-inch printed Northeast Florida chart booklet whose cover is shown above comes with a CD of the same charts in a raster format that's understood by several charting programs, as well as the right to download the same charts via X-Traverse to Apple computers and mobiles running MacENC or iNavX. Now, aside from the latter nicety, this NV Chart bundle is similar to the ChartKit and CD bundles that MapTech has offered for many years (though now under Richardsons' management), but competition is good and it seems to me that NV has an appealing approach.
I've often appreciated the handiness of ChartKits but sometimes find details difficult to make out due to the way NOAA raster imagery is sometimes shrunk to fit page sizes. I haven't used NV booklets on the water yet, but it looks like the Scheidt's idea of starting with flexible vector data may be a good one. As is their willingness to go out and survey critical cruising areas. If you read Panbo regularly (or search the site for NOAA), you'll know that I've come across numerous issues with official data, as have commenters (like yesterday's revelation from Phin Sprague about an uncharted Portland-area ledge streaked with bottom paint and lead). NV Charts apparently runs one survey vessel in Bahamas and one out of Newport, Rhode Island, which has already contributed to their first two New England chart bundles. Has any reader tried NV's U.S. charts? Or have comments on the company's existing European and Carribean coverage, paper or digital?