Chetco SeaSmart.Net modules, wide open N2K-to-Ethernet?
... written for Panbo by Ben Ellison and posted on Feb 26, 2011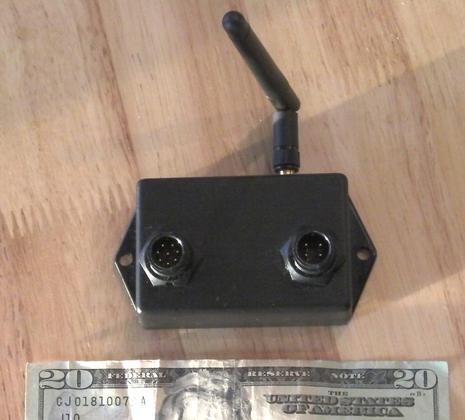 Chetco Digital Instruments has been quietly developing software and hardware to digitize and display analog engine info for some time, and with some success I hear. But as of yesterday's big press release, Chetco has jumped big time into marine data networking, particularly the hot, if confusing, area of putting NMEA 2000 messages into an Ethernet format and serving them to whatever wired and wireless devices can use them. So that little $579 SeaSmart device above contains an N2K-to-Ethernet gateway (by Actisense, I think), a WiFi transciever, and a "CGI/AJAX web server" that puts out an "open sourced HTML protocol" that will purportedly support "any application from weather station, dual engines, battery banks, fluid tanks and more." Excited yet?...
Yes, it seems that while Chetco would understandably like customers to use its various new SeaSmart modules in conjunction with its engine software/hardware -- as seen on the iPhone way below -- it's opening the door so that the gatewayed data (NMEA 0183 included) can be used by any software. In fact, if you poke around the pages and PDFs available on
Chetco's new SeaSmart.Net site
, you'll find lists of PGNs with their HTML headers, and the promise that Chetco will continue to add more PGNs to the server's abilities, like this: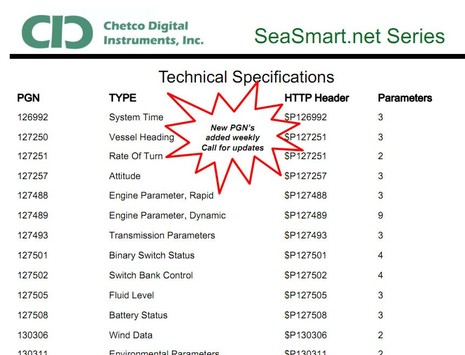 Now I'm not quite geek enough to thoroughly understand what Chetco is doing here, let alone put it in context, but I'll bet that numerous Panbo readers are, and here's hoping that some of you will comb through the materials and report back. Is this HTML technique limited to browser displays --
like Chetco is showing off online
-- or can it feed nav data to apps like iNavX and Navionics Mobile or whatever? Multiple apps simultaneously? Would it be hard to modify such apps to read data in this form? Is this the technique Digital Yacht should use so that
its BoatraNet system
can serve third party apps as well as its own web pages (which DY is interested in doing). Is this how Maretron could serve nav data to third party apps while keeping its
new IPG100 N2KView server
secure (which Maretron is mulling)? Are we looking at a simple standard for NMEA data over Ethernet/TCP/IP? Or am I dreaming ;-)