SPOT Connect(s), the mobile apps way
... written for Panbo by Ben Ellison and posted on Jan 6, 2011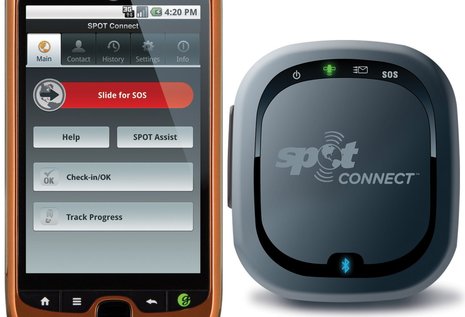 Yes indeed, that is an Android app serving as the extended front end of yet another iteration of the good old SPOT satellite messenger. It's called SPOT Connect, and it's a close relative of the Delorme joint product announced at this time last year. The SPOT hardware is again an independent, waterproof communicator that can send out a distress message by itself, but now its third internal wireless component -- after GPS and Globalstar short burst messenging -- is Bluetooth. Which means that a SPOT app on most any sort of mobile device can be used to send canned "Help" or "Check-in" emails/texts, or to turn on tracking, or -- and this was the big new feature on the Delorme PN60W -- write a custom 41 character message. Another Connect difference is that the actual shipping date will apparently come much sooner after the announcement...
While
the SPOT Connect product page
does have an FCC not-for-sale warning at the bottom, Monday's
Connect announcement
states that the $170 hardware package is "scheduled to begin shipping this January" (which is soon ;-). The service costs are typical SPOT, like $100 a year for unlimited canned messages and another $50 for unlimited tracking, with custom messages billed individually or bought in bundles. The apps will be free and, besides Android,
CNET is reporting
that "iPhone compatibility is pending Apple's approval, and BlackBerry and Windows Phone 7 compatibility will follow later in the year."
If you read that whole CNET piece you'll also see the suggestion that Connect can be used to provide GPS positioning to apps devices that don't have an internal GPS, "such as the iPod Touch," but I'm a bit dubious. It would be neat, especially for someone like me who's
recommended against buying a 3G iPad just to get the GPS
, but SPOT is somewhat vague about this capability. An inquiry has so far gone unanswered, but that's understandable as the marketing folks are at the giant CES show where Connect
just won an innovation award
. And I think It's a well deserved award. Isn't a small suite of satellite communications functions that's easy to use with your favorite smart phone or tablet, and not too pricey, a pretty darn cool development? Given what
we've seen of SPOT coverage
, you might not need anything else to track yourself across the Atlantic while messaging friends and even posting Facebook and/or Twitter updates!
But SPOT won't have this niche to itself for long. In fact, I will hopefully publish a scoop on a similar but more powerful (and more expensive) Iridium-based system on Panbo this weekend. In fact, all sorts of interesting products are popping up these days, but let me close today with some iPad fun...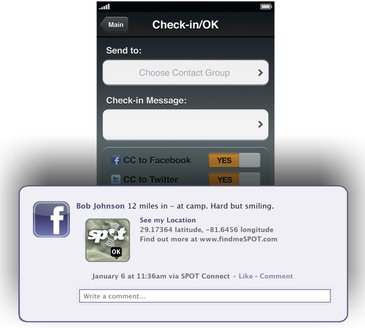 Of course there are lots of ways to use an iPad on a boat, but it looks like P. Diddy and his entourage are going to enjoy
one amazing mega app
that's not available to the rest of us. And did you hear that something like
100 new tablets are being introduced at CES
. It's going to be an interesting year in electronics.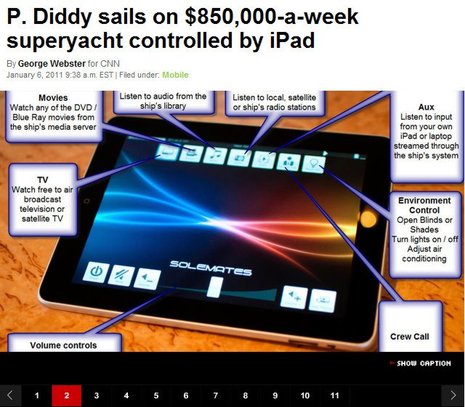 Comments
Posted by: Ben
at January 6, 2011 8:38 PM | Reply
Posted by: GPSNavX at January 6, 2011 10:02 PM | Reply
Posted by: Ben
at January 6, 2011 11:29 PM | Reply
Posted by: Bob S
at January 7, 2011 12:43 PM | Reply
Posted by: Ben
in reply to Bob S at January 7, 2011 1:32 PM | Reply
Posted by: Cattledog at January 7, 2011 4:46 PM | Reply
Posted by: Ben
in reply to Cattledog at January 7, 2011 5:41 PM | Reply
Posted by: Rick at January 7, 2011 9:14 PM | Reply
Posted by: Ben
at January 8, 2011 9:43 AM | Reply
Posted by: clay babcock at January 10, 2011 11:58 AM | Reply
Posted by: Phin Sprague at January 22, 2011 12:33 AM | Reply
Posted by: Drew Clark at January 28, 2011 11:32 AM | Reply
Posted by: Ben
at May 24, 2011 8:36 AM | Reply
Posted by: Ben
at June 13, 2011 6:55 PM | Reply
Posted by: Phin Sprague at June 14, 2011 10:44 AM | Reply