Clarion supports iThing tunes, & and the Bluetooth alternative
... written for Panbo by Ben Ellison and posted on Jan 27, 2011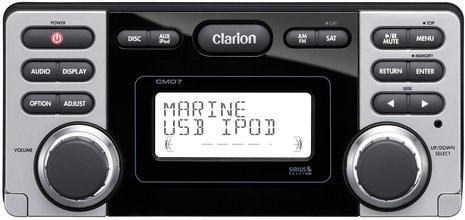 Clarion recently announced the "all new" CMD7 Marine CD Receiver (along with a pacel of other marine stereo gear) and its main new feature seems to be a direct iPod interface. According to the CMD7 product page, you "just connect your iPod's USB cable to the CMD7's rear USB input and you get complete key control of your iPod including genre/album/song title search and you can also use iPod's control wheel (simple control mode). The same connection can also be used to play back audio files stored on USB memory." Now this isn't truly new, given what Fusion has been up to for years now, but that sure is a handsome stereo and there are many Clarion fans out there. Maybe the next version of the mighty CMV1 (in action here) will easily manage iThing videos like Fusion's SonicHub and MS-RA200 do? Meanwhile, some boaters are pretty pleased to simply stream tunes into their existing stereo's aux port using a Bluetooth gadget...
I'm speaking specifically about
Pompano Beach Panbot Glen Ersley
, who recently
enthused on the Hull Truth
about his experience with what's formally called the
BlackBerry Remote Stereo Bluetooth Gateway
(also
reviewed at crackberry.com
). It does look like a clean and easy setup, though I wonder how well Glen can see his iPhone when the sun shines on his center console's dash, and here's hoping it never takes a serious douse of salt water. There seem to be numerous options to the Blackberry gadget, including a similar
Belkin Bluetooth Music Receiver
(made especially for iThings, though I think that BT A2DP works in pretty standard way these days) and the
Kensington LiquidAUX
, which adds hand's free calling support and even a wireless remote for controlling calls and switching tunes.