Gizmo Thanksgiving, & the Garmin 740 networked
... written for Panbo by Ben Ellison and posted on Nov 24, 2010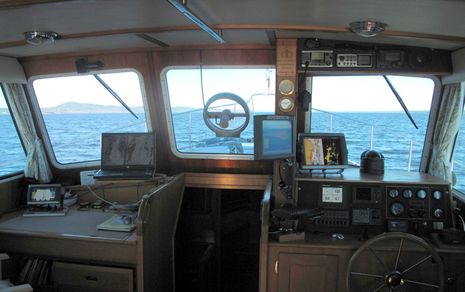 It's about to be Thanksgiving here in the states, and -- aside from the normal family stuff (which is huge) -- I surely am thankful for being the custodian of a wonderful boat, for living in a beautiful corner of the oceans, and for getting to fool with some great technology. Above is Gizmo's lower helm, the Fall 2010 edition, and while there's a lot here that I haven't written about yet, I'm going to focus today on that little Garmin GPSMAP 740 on the chart table...

Several local boaters have checked out
the loaner unit I lab tested in May
, and I'll soon publish their comments on using it as a standalone plotter (they liked it a lot). But I also think the 700 Series can make sense as part of a larger system. No, it can not network via Ethernet with Garmin's major MFDs, radars, and so forth, which I confirmed. When I connected it via Ethernet cable to the 5212 -- which is also high speed networked to the 7212 on the flying bridge and to the xHD radar -- the 740 delivered a polite but firm message about how it was experiencing an unauthorized connection and would shut itself down in 15 seconds! Fair enough; removing fast networking abilities from the 700 series is apparently a significant way that Garmin was able to hold down its cost...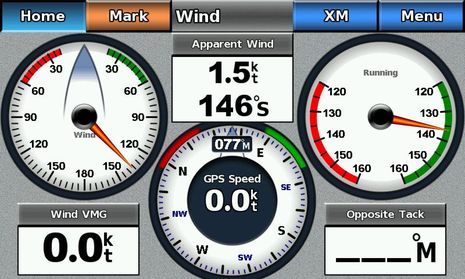 But as far as I can tell, Garmin didn't hold anything back when it comes to the 740's NMEA 2000 networking abilities. It can manage and decipher all the sensors that the big displays can (in this case
ST-STng Converter output
), and in fact the big ones can't yet emulate analog gauges as well as the Wind screen above does. There are also dedicated instrument screens for Environment, Engines, and Fuel Management (with a decent amount of customization possible), which means a 700 Series can be used like an extra large
GMI 10
. Except that it can also handle the complexities of Garmin's more proprietary N2K devices. It can, for example, manage and display Garmin XM weather and audio just fine. And while it can plot any device's output of N2K or NMEA 0183 AIS target data, it can also simplify direct VHF calls to those targets if there is a
Garmin radio on the N2K network
. I spoke with a trawler guy yesterday who is thinking of using one primarily as an AIS display because he likes to keep his bigger Garmin MFD more zoomed in for regular navigation.
It may seem extravagant to use a 7-inch touchscreen MFD primarily as an instrument display or for zoomed out target tracking, or just for scanning XM channels, but less so when you consider how far that $1,500 might go elsewhere. And that you also get a first class back-up plotter with all U.S. and even Bahamas charts built in, and a back-up radar display. The test unit may have balked at Ethernet networking, but it was quite happy to receive the Ethernet output of the
GMR 604 xHD
directly, and since the 3.0 software update, it can even do overlay, as seen below. The 700 Series is maybe something worth being thankful about?