DAME Awards 2010, part 2
... written for Panbo by Ben Ellison and posted on Nov 14, 2010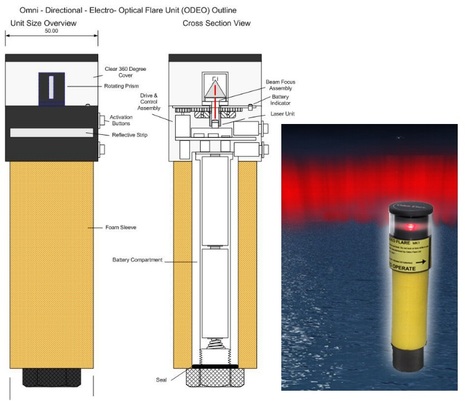 DAME Awards will be chosen at METS this coming week for multiple categories, but there are electronical things well beyond the main marine electronics category discussed on Thursday. Consider, for instance, how the ODEO Flare seen above attempts to replace pyrotechnics with four lasers and a revolving prism. It does cost almost 100 pounds, but purportedly stays lit for 10 hours on 2 AA batteries, and it won't burn you. Also in the Lifesaving and Safety Equipment category are SeeTrac's Jet-trak high-end PWC tracking system, McMurdo's SmartFind S5 AIS SART, and Weatherdock's easyRescue, which seems to be a personal-size AIS SART. And of course there's the Marine Related Software category...
The DAME judges sometimes don't make a category award if no product seems outstanding, and while that's happened several times in the Software category, I doubt it will this year. For one thing, there's
Palladium's Simon2
(that's Simon squared), which is beautiful in design and innovative in engineering (I saw more of it in Lauderdale). There are also two entries I'm currently testing and liking a lot: Navionics Mediterranean HD, the first of
Navionics 5.0 app generation with UGC
, and
MaxSea Time Zero Explorer
, now up to
version 1.9 goodness
.
Then there's this mouthful of a category: "Machinery, propulsion, mechanical and electrical systems and fittings." I suppose it's not very electronic, but
Dometic's SailVac waste system
for small to medium sailboats looks interesting. And while I'm not sure what's especially innovative about the
Mastervolt ChargeMaster 12/25-3
, I am beginning to understand how MasterVolt is developing a modern, modular product family that can integrate most every aspect of power on most any size boat (another Lauderdale visit). The
Philippi EMbox
also looks smart, purportedly able to manage every charging source imaginable. But for me red flags fly when a product actually calls itself smart, as in the four Whale Water System IC -- for Intelligent Control -- pumps that all got nominated for DAME awards in this category. However, these bilge, fresh, and gray water pumps really do look smart, what with their solid state switching, soft start abilities, integrated field effect sensors, and all sorts of well thought out install details. Check out the IC Pump Brochure PDF at the top of this
Whale marine product page
. Tuesday morning, we'll find out what the judges think.